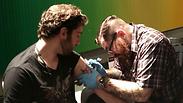 Maor David getting two doves tattooed on his arm
Photo: Yael Freidson
Tattoos over terror: victims of attacks receive free tattoos to reclaim their bodies
Tattoo artists from the US and Israel gather at the Israel Museum to offer terrorism survivors tattoos; 'I recognize I don't know why this stuff happened,' says Kay Wilson, who was severely injured as her friend was stabbed to death. 'And it's not a question of why, it's a question of how I am going to carry this cosmic event with dignity, and not live in hatred—not forgive—but seek justice.'
International tattoo artists arrived at the Israel Museum in Jerusalem on Thursday, to work on the bodies of terrorist attack victims. For a single day, the soft echoes that normally pass through the halls were replaced with the continuous hum of tattoo needles.

The event was organized by Artists 4 Israel, which offers humanitarian aid and diplomatic Hasbara efforts on behalf of Israel through artistic endeavors. As part of the event, tattoo artists from Israel and the US offered free tattoos to terrorism victims and soldiers injured in the line of duty. While some wished to cover up the scars from their injuries, others chose drawings with personal, symbolic meaning and some aimed to enhance their scars.

Kay Wilson, who was severely injured in a terrorist attack, explains the meaning behind her tattoo (צילום: דניאל אליאור)

Maor David, a soldier managing posttraumatic stress disorder (PTSD), displayed a new tattoo with two doves, explaining, "You can even produce beauty and freedom out of loneliness and suffering."

Megan Wilson, one of the artists who took part in the initiative, said that tattoos are an instrument for healing, adding that while people do not have full control over their bodies, tattoos can be a way to reclaim their body and choose what to do with it.

Dror Zicherman was hurt in the line of service, while he stopped a terrorist at a check point near the Palestinian city of Tulkarm who was on his way to carry out a suicide attack in the center of Israel. When Zicherman stopped him, the terrorist detonated the bomb on his person, leaving Zicherman severely injured.

A few years ago, Zicherman received a new splint for his leg that greatly increased his level of well-being. For his tattoo, he asked tattoo artist Zero to draw a splint on his other leg. Zicherman laughingly explained that "It's the source of my strength."

Born in Nairobi and living today in California, Zero said he never believed he would reach a place as beautiful a Israel, making art that he feels means almost as much to himself as it does to Dror.

Rami Yulzari was injured during his last day in service when his unit entered a landmine field. Two of his friends were killed on the spot, while Yulzari—fearful of stepping on another landmine—remained standing in place for two hours, covered in the blood of his comrades, until a rescue team got him out of there. He still manages his posttrauma as a result of the event.

For his tattoo, Yulzari chose sea turtle, with the idea that no matter what happens to you, life goes on and you keep on swimming.

"A lot of people here want to hide their scars, but you can't see mine," he said. "I've suffered from posttrauma for many years, just like a lot of soldiers with visible injuries. I want to highlight my scar, not be ashamed of it."

As part of his own efforts, Yulzari leads a long-distance running group for people managing PTSD. Like a turtle, "I may run slowly, but I can run all day, and far."

Kay Wilson was critically injured during a stabbing attack in 2010. While taking a walk with her friend Christine Luken through the ancient city of Latrun, the women were attacked by two terrorists. Wilson was stabbed 13 times, as she witnessed her friend's murder. She knew that in order to survive, she had to pretend to be dead, so she kept her eyes wide open. In a horrific mixture of sensory and emotional cues, Wilson described hearing the birds singing as her friend cried out in the face of her attackers.

Wilson chose to tattoo the Hebrew prayer "Mode Ani" ("I Give Thanks") on her hand. "I got the tattoo because my Christian friend was murdered because they assumed she was also Jewish," said Wilson. "The word 'Jew' in Hebrew, it has two meanings: one is to give thanks, and I can only be thankful I'm alive, and the other means to recognize—'le'hodot'—and I recognize I don't know why this stuff happened, and it's not a question of why, it's a question of how I am going to carry this cosmic event with dignity, and not live in hatred—not forgive—but seek justice."

The artist in charge of Wilson's tattoo was Wassim Razzouk, a religious Christian of the Egyptian Coptic community living the Old City of Jerusalem. He and Wilson connected over their strong religious beliefs.

Razzouk spoke proudly of his family, where the art of tattooing has been passed down for 700 years. "Tattoos are a Christian tradition," he explained. "When we first arrived in Israel, we started making religious pilgrimage tattoos. The idea behind a pilgrimage is that it is something you carry with you forever, like a tattoo. The essence of Christianity is love and forgiveness. Peace is not an easy word, but as human beings, we must spread light and love."