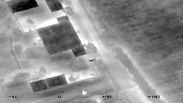 Dozens of terrorists were killed overnight Saturday in Egyptian military air strikes on the cities of Rafah and Sheikh Zwede in the Sinai Peninsula, according to the Arabic-language version of Sky News.

Egyptian military in Sinai

The attacks were aimed at targets of the ISIS-Sinai Province branch of the international terrorist organization in the peninsula. Despite travel warnings, many Israelis were holidaying in the Sinai last week.

Security sources said that the attacks were focused on the city of Balaa west of Rafah and that some 70 terrorists were killed and another 70 injured. According to the Sky News Arabia report, the attack also destroyed vehicles used by ISIS-SP. Further, Egyptian Army forces reportedly thwarted an attempt to carry out a terrorist attack with four explosives in the northern Sinai.

The air strikes came several hours after Brigadier General Adel Rajaaie, an armored division commander who had served in the region, was shot dead outside his home on the outskirts of Cairo. A newly-emerged militant group calling itself Louwaa el Thawra, or the Revolution Brigade, claimed responsibility for the attack on a Twitter account that was suspended shortly after the claim.