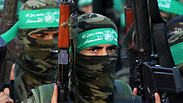 A baby named Walid Sha'ath was born last week in Rafah, Gaza, a place where a baby is born every 10 minutes.

He is the 2 millionth official resident of the Strip, cementing Gaza's ranking as the most crowded piece of land in the world.

Along with the overpopulation, there's a 50% chance that you're unemployed if you live in Gaza. You don't have electricity for two thirds of the day – if you even have a house. You bathe in hard, salty water, and going abroad is only a dream. And if you're a Gazan with a problem, you can't go to the Palestinian Authority for help – you have to go to Hamas.


Hamas has been highly attentive to the needs of the people of Gaza, fearing that the population will rise up. So far, none of the people who have self immolated in the Strip have managed to spark popular protest. However, this doesn't mean it won't happen.

On the other hand, Hamas is the nation. Ismail Haniyeh, with all of his millions of dollars, still lives in the Shati refugee camp. He is a public figure who isn't disconnected from his electorate Compare this to when the Palestinian Authority controlled Gaza. They would drive around the impoverished strip in their fleets of Mercedes.

There's a reason that Hamas invests so heavily in teaching kindergarteners how great it is to be a shahid, holds extensive workshops for the military wing's reservists, and actively recruits young people. It's not because of any shortage in manpower or volunteers – but due to Hamas's understanding that it must completely merge with Palestinian society.
Cut off from Iran and Egypt
The Hamas internal elections are set to begin in December and continue for six months. The most interesting part of the elections are expected to be for the leadership and for who will be the new leader of the terror group.

Khaled Mashal, current political leader of Hamas, has announced that he won't stand for re-election.

However, one mustn't be mistaken – Mashal won't be sitting at home resting on his laurels. At only 60 years of age, and after two decades of being a leading member of Hamas, Mashal is looking for an even bigger role to play. He may become a high ranking figure in the Muslim Brotherhood, the international organization of which Hamas is a part. Or, he may run to be the next Palestinian president – if and when those elections are held.

The Hamas of today is different than the Hamas of a decade ago. After all of the turmoil in the Middle East, Hamas today has no true patron. Hamas has always played the field - creating strong connections with Shia Iran and the Sunni Muslim Brotherhood.

However, Mashal was forced to choose a side as a result of the Arab Spring, and chose to side with the Sunnis.

Iran stopped supporting Hamas politically ever since, and is still waiting for Mashal to come to Tehran to personally apologize.

Neither have the Sunni countries welcomed Hamas with open arms. Saudi Arabia hasn't forgotten Hamas's close relations with Iran – Saudi Arabia's greatest enemy – and therefore hasn't opened up to the terror group.

Hamas then tried being taken in by Cairo, but the Egyptian government hasn't been too kind to the Gaza based terror group. The Egyptians have been systematically flooding Hamas smuggling tunnels along its border and keeping the Rafah Border Crossing closed for the majority of the time.

However, along with trying to flatter the Egyptian government to mitigate that state's damage to the organization, Hamas also needs to keep good relations with ISIS in Sinai. This is because Hamas needs to keep what tunnels it has left going into Sinai operational. Hamas must also take into account the close familial relations between the people in Gaza and the Sunni extremists in Sinai. For example, the head of the Hamas Rafah Brigade, Mohammad Sha'abane, has a large portion of his family living in Sinai.

There are currently only two countries in the world which support Hamas; Turkey – which supports more in words than in deeds, and Qatar – which has turned into the terror group's largest financier, both in terms of rebuilding the Gaza Strip and in terms of funding the terror group.

Mashal understands that regional instability has caused Hamas to have to pay a heavy price.The organization preferred to stick to its principals instead of acting according to its interests. An example of this was seen when Hamas decided to turn its back on the Assad regime at the beginning of the Syrian civil war. The Hamas leadership left Damascus and scattered throughout the Arab world. On top of this, Hamas's connections with Hezbollah quickly came to an end – at least in the beginning of the war.

Meanwhile, Mashal doesn't view anyone else as strong enough to take over the Palestinian presidency in the West Bank after Mahmoud Abbas leaves. He knows that he has a real possibility of becoming president in the Palestinian elections should they ever take place.

Therefore, Hamas needs to build a foothold in the West Bank. To do this, Hamas has been organizing a civilian infrastructure in various Palestinian cities there. Hamas has been investing tens of millions of dollars to establish these infrastructures not only in the West Bank, but in east Jerusalem as well.

The money is being transferred via Palestinian businessmen who have permits to cross from Gaza to the West Bank, along with people who cross from Jordan into the West Bank via the Allenby Border Crossing outside of Jericho, amongst others ways.

This is why Mashal has been more moderate and realistic, and why he said in his latest speech – given in Qatar a month ago – that Hamas needs to cooperate with their political rivals (Fatah), and not attack them. He is trying to bequeath a less inflammatory situation to his successor.
Replacements and supporters
The deputy head of Hamas, Ismail Haniyeh, went to Saudi Arabia a little more than a month ago. The official reason for the trip was to go on Hajj to Mecca, but in reality, he was there to help build a base for his candidacy for the Hamas internal elections.

After Saudi Arabia, he flew to Qatar where he met Qatari Emir Yusuf al-Qardawi, one of the most senior Sharia arbitrators in the Sunni world, and one of the central figures in the Muslim Brotherhood.

Qardawi was photographed warmly shaking Haniyeh's hand as Mashal stood by his side – a picture which will undoubtedly help Haniyeh achieve the Hamas crown.

Haniyeh's trips - of which there are still more to come – are expected to give him major points in the race to the leadership. His victory will mark the point when Hamas completely bases itself in the Gaza Strip. He has the charisma and the ability to get a large number of people to follow him, and is building himself up to be the strongest person in the Strip.

.

Mousa Abu Marzook is one of the people running against Haniyeh, and has cultivated a strong working relationship with the Muslim Brotherhood leadership and various other Arab states over the past few decades. He is also the only one left in Hamas with relations with the Egyptian security and political establishment. Abu Marzook also believes that an effective Hamas leader needs to live outside of Gaza, and has attacked Haniya on this issue.

Despite the fact that Mashal was photographed with Haniyeh, it seems that he would rather see abu Marzook replace him as leader of Hamas, as a Hamas leader outside of Gaza will have an easier time holding onto power.

However, in the end it seems that Mashal may lend his final support to the leader of the Hamas military wing, Mohammad Deif . Deif is a man who wants to be more involved in politics, and would like to see the baton of power passed to the people he is close to. Deif and the people he surrounds himself with are already in their 50's, and would like to take part in political decision making.
The defense minister
Last week marked five years since Gilad Shalit was freed from Hamas captivity in a prisoner exchange which saw Israel release over 1,000 prisoners. Amongst those prisoners was Yehya Sinwar, one of the founders of the Hamas military wing.

After becoming part of the leadership's bureau four years ago, he was thought to be the most likely to succeed Mashal as the head of Hamas.

Sinwar has a lot of influence in Hamas, influence which will only continue to grow should Haniyeh be elected to be leader.

Yehya Sinwar represents the polar opposite to what Mashal is; he is part of a family of militants (his brother was one of the planners of the abduction of Gilad Shalit), he is an integral part of the military wing, ascetic, powerful, tough, and has a strong sense of self-discipline.

He stays away from the press, and is therefore relatively unknown to the Israeli public. However, he is a very key figure in Hamas.

Sinwar managed to create a position for himself in Hamas which didn't exist previously – a connection between the military and political wings of the terror group. For all intents and purposes, he established the position of "Hamas defense minister." Sinwar, as opposed to almost any other high ranking Hamas official today, has no problem viewing Mohammad Deif as an equal, as the two began their militant activities at around the same time.

He also subscribes to a school of thought which advocates renewing the alliance with Iran.

Ever since his release, Sinwar's and Mashal's relationship has been full of tension due to their radically different views and because Sinwar isn't afraid of being in open conflict with Mashal.

For example, Sinwar decided that a high ranking Hamas military wing official needed to be assassinated due to suspicions that he was transferring information to Israel regarding Deif's whereabouts during Operation Protective Edge. He decided this without consulting with Mashal first.

With Mashal out of the way, and if Haniyeh wins the elections, Sinwar will have a lot more influence over how the Hamas military wing operates, and will be able to have a hanfd in changing the face of the terror organization, much to the consternation of regional players - chief amongst them Israel.

The answer as to what direction Hamas is going in will come at the end of this year, when the next Hamas leader is elected. However, before they will be able to realize their political ambitions, Hamas's leadership must tend to the needs of its two million residents who are already beginning to boil over in anger. They must ensure that children like Walid Sha'ath don't feel like they were born into a huge, neglected, poor prison.