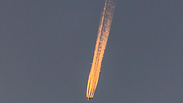 The fireball over Israel was a plane
Citizens across central Israel reported seeing a ball of fire streak across the sky.

Dr. Igal Patel, director of the Givatayim Observatory, explained that it seems that the great ball of fire in the sky was actually an American military transport C-17 airplane flying at 35,000 feet.






"It seems that the sun's rays combined with exhaust coming from the plane's engine, causing the plane to seem to be a ball of orange fire," Patel said.

A witness told Ynet "I saw a giant orange light – something which looked like a giant missile or a meteor. It was far away and didn't look like a plane. Also, it looked like the ball of fire was falling out of the sky. It was strange, and I have no idea what it could have been.