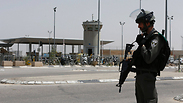 Kalandia checkpoint.
Photo: AFP
The State Attorney's Office (SAO) announced Wednesday that charges against security guards who shot Maram Abu Ismail, 23, and her brother Ibrahim Taha, 16, at the Kalandia checkpoint separating Jerusalem and Ramallah in April. The siblings' family has been notified of the decision.

The SAO explained that the decision, which was approved by State Attorney Shai Nitzan, is based on the evidence of the case indicating that while Ibrahim was walking towards the checkpoint, he had one hand in his pocket, with the other holding onto his sister. According to the SAO, these circumstances could have arisen a reasonable suspicion that he was about to attack security personnel at the checkpoint.

In addition, the SAO stated, Abu Ismail pulled out a knife and threw it at a security guard. It classified the guards' actions as a case of "clear-cut self-defense."