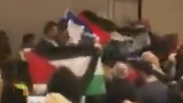 An Israeli speaker's talk at University College London on Thursday evening was disrupted by reportedly violent anti-Israeli protesters to such an extent that police had to be called to evacuate barricaded-in Jewish students.

The CAMERA on Campus event, hosted by KCL Israel Society and UCL Friends of Israel Society, had invited 27-year-old Hen Mazzig to speak about his experiences as a former IDF officer in a talk entitled "Sitting on the Fence." His talk had been met by controversy even before he arrived, with nominally pro-Palestinian student groups seeking to cancel his event.

Video by Craig Dillon & Jacob Diamond

The Independent reported that UCL's student union (UCLU) had made the decision that Mazzig would not be allowed to speak, but the university's administration overruled that. However, a statement released by the UCL Friends of Israel Society corrected this, stating that the event eventually had obtained "the consent of both UCL and UCL Union."

Still, in an attempt to minimize the campus disruption, the organizers only emailed the final location of the talk to ticket-holders two hours before the event. These efforts were fruitless.


Some 100 protestors gathered outside the room where the event was being held. They chanted slogans like "Shame!" and "Free Palestine!" bearing banners, and some entered the room by crawling in through windows.

The Telegraph reported that two Jewish students reportedly were assaulted and that the Metropolitan Police is investigating. One claimed to have been knocked down by a protestor who jumped in through a window, and the other alleged that a panic attack was triggered when a different protestor pushed her against a door.

Those who had come to participate in the event barricaded themselves in a room and were escorted out by police. The speaker posted on his Facebook timeline, "I had to leave, running with the security, just to get off the campus. Yes, the streets were the safe place."

Mazzig also confirmed that all the attendees were safe, including the two who had filed police reports. UCL security found a new location for the event to take place, and it proceeded peacefully.

UCL released a statement on Friday that read in part, "UCL and UCLU do not condone acts of intimidation or violence under any circumstances and, as a university with a longstanding radical history, we fiercely support the right to exercise free speech within the law."

UCL also stated, "We are aware that the Metropolitan police attended following accusations of assault and support them fully in their investigations. As this was a public event, it is unclear how many UCL students were present but we are instigating an enquiry and we will take appropriate disciplinary action where there is clear evidence that students may have breached our disciplinary regulations."