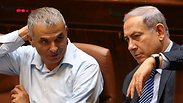 Moshe Kahlon (L) and Benjamin Netanyahu
Photo: Alex Kolomoisky
PM leads effort to cancel new broadcasting corporation
Though the Israeli Broadcasting Authority is set to be replaced by the Israel Public Broadcasting Corporation, PM Benjamin Netanyahu has scheduled a meeting of Coalition leaders to stop the establishment of the new broadcasting corporation; Minister of Finance Moshe Kahlon is expected to be the deciding vote.
Prime Minister Benjamin Netanyahu will be calling a vote of coalition party leaders on Sunday, in order to further his plans to close down the upcoming Israel Public Broadcasting Corporation (IPBC)—the body that was set to replace the Israel Broadcasting Authority (IBA).

The meeting will not produce any official decision, but will clarify the positions of government leaders on the matter ahead of a possible vote next week on a bill proposed by MK David Bitan (Likud), which would essentially keep the IBA in place and cancel the IPBC's establishment.

Netanyahu supports Bitan's bill and is expected to be joined by Yisrael Beytenu and United Torah Judaism (UTJ) leaders Avigdor Lieberman and Yaakov Litzman. On the other hand, Bayit Yehudi leader Naftali Bennett and Shas leader Aryeh Deri are expected to oppose the bill. Finance Minister and Kulanu Leader Moshe Kahlon has not explicitly commented on the bill himself, but has in the past expressed his opposition to stopping the transition of the IBA to the IPBC.

Netanyahu will likely be able to push the bill through a Knesset vote if Coalition members in general (and not just the party leaders) support it. Even the opposing voices of Minister of the Interior and of the Development of the Negev and Galilee Areyh Deri (Shas) and Minister of Education Naftali Bennett (Bayit Yehudi) are not necessarily a complete obstacle, since the two have not treated the expressed an unwavering stance against it. Even so, if the PM finds out that he does not have a majority of Coalition leaders on his side, he may decide to present a "softened" version of the Bitan bill to the Knesset that would not outright prevent the IPBC transition, but merely delay its progress or demand reforms within it.

Itamar Eichner, Raz Shechnik, and Yuval Karni contributed to this report.