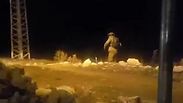 Scene of the shooting attack
Photo: Judea and Samaria Search and Rescue
Shooting attack on Highway 60, police search for shooter
Ruth Gillis, whose husband Shmuel was murdered in a shooting attack on that same road, was attacked by a masked man on Saturday evening near her hometown of Karmei Tzur; there were no injuries, as Israeli authorities are searching for the shooter.
A shooting attack took place on Israel's Highway 60 Saturday evening, near the West Bank settlement of Karmei Tzur. Ruth Gillis, whose husband, Dr. Shmuel Gillis, was killed in shooting attack on Highway 60 in 2001, reported to authorities that her car was shot at by a vehicle driving by. IDF forces are searching for the attacker. No one was hurt in the attack, and no property damage was caused.

Scene of the attack on Highway 60, Saturday. (צילום: דוברות הצלה יו"ש)

"I was just at the exit from Karmei Tzur on my way to Route 60, when I see a masked terrorist in front of me, shooting at me with a weapon," Gillis said. "I saw the terrorist clearly. I immediately drove toward Gush Etzion Junction where I alerted security forces, who started scanning (the area). It's a bad feeling, this thing is a very serious event. I thank the almighty; a miracle happened here."

This was the second terrorism attack in a 24-hour period, as on Friday night a man attempted to run over soldiers at a vehicle checkpoint near Ofra in the West Bank. He then exited the vehicle with a knife in his hand, attempting to stab the soldiers. They shot and severely wounded the attacker. No one else was hurt.