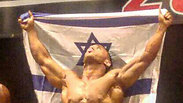 Pride of the nation
Photo: Yoni Hanna
Kobi Ifrach, a 20 year old from Zikhron Ya'akov, won on Sunday in England the Mr. Universe competition in the under-23 Junior Division, becoming the first Israeli to win the title in the 67 years that the National Amateur Body-Builders' Association (NABBA) has been organizing the competition.

From NABBA's YouTube (מתוך ערוץ YOUTUBE של NABBA2009)

Ifrach spoke with Ynet from his hotel in Birmingham after achieving the title that has also been won by Arnold Schwarzenegger, who won the competition four years in a row.




"I have been training 24 hours a day for many years," he said. "Training means following a tight schedule—eating every hour and a half and not drinking water at all on some days."

The 20 year old was proud to be the first Israeli to bear the country's flag on the stage above his competition-winning body: "It's an amazing feeling to wrap myself in the Israeli flag. I came from such a small country and became the center of attention. This is unprecedented!"

The Mr. Universe trophy was presented to Ifrach by Yoni Hanna, the president of NABBA in Israel and a winner of 2013's Mr. World. Hanna was very excited by the historic win by an Israeli competitor.




Ifrach got into bodybuilding at a young age thanks to his older brothers, who were amateur bodybuilders. He won many tournaments in Israel over the years. He is coached by Dani Kaganovich, and he told Ynet that he sacrificed much for the competition.

"I had no time for a social life during the preparation," Ifrach said. "After the tournament we all went to eat burgers, and it was insane. Breakfast at the hotel was very exciting."

His indulgence would appear to be short-lived; Ifrach said that he was already planning for next year's competition.