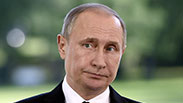 Russian President Putin.
Photo: Reuters
Russian President Vladimir Putin praised Israel's response to terrorism during panel discussion held on October 27 at an event organized by the Valdai International Discussion Club. The event was labeled an exchange of ideas regarding strategy and foreign policy, and was attended by leaders—former and current—as well as by experts from 35 different countries, including the US.

While defending his country's record of military action in comparison to that of the United States, Putin referenced Israel as a positive example of relentlessness in the face of terror attacks.

"Learn from Israel. it never lets go. They fight untill the end. That's why it exists at all… There is no other option. We have to fight," Putin said, "If we let things slide, we will always lose."

Putin defended his administration's actions in the Middle East—specifically its interventions in Syria—by comparing them to actions taken by the US administrations of Presidents George W. Bush and Barack Obama.

The Russian president emphasized the importance of adhering to UN decisions, which he said had been violated by the Americans on multiple occasions. "We must return to what is written in the UN charter," he urged before providing examples of US military interventions in foreign countries, which he said flew in the face of UN authority.

"In the 1990s, they bombed Belgrade. In essence, this is flagrant aggression over a (sovereign) state…Iraq—did the UN give permission (to invade)? Of course not. And before that was Afghanistan, in 2001," he said.

Advocating for his administration's policies in Syria—specifically in the battle-stricken city of Aleppo—Putin said, "All we hear is 'Aleppo, Aleppo, Aleppo,' but what are you really asking? Do you want us to leave the terrorist cell there, or—while minimizing all civilian deaths, doing all that we can to protect them—eradicate this cell?"