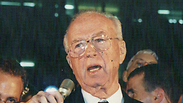 Yitzhak Rabin
Photo: Michael Kramer
Israel memorializes Yitzhak Rabin
For the 21st consecutive year, Israelis gather to honor the slain leader who was gunned down after a peace rally in a murder that shocked the nation. The event nearly did not take place for the first time due to a lack of funding, but the opposition Zionist Union party took it on themselves to back the rally.
Saturday night, thousands Israelis gathered in Rabin Square in Tel Aviv to remember Yitzhak Rabin, the then-prime minister and minister of defense who was murdered by Yigal Amir after a peace rally in that plaza on November 4, 1995.
The main assembly in memory of Rabin was almost not about to take place this year, for the first time in the 21 years since he was fatally shot. Organizers had announced on Sunday that the ceremony in Rabin Sq. would be canceled this year, due to a lack of funding and sponsors.
Rabin Square (צילום: מוטי קמחי)
After hearing of the cancelation, though, Leader of the Opposition Isaac Herzog came out with a statement of his own, saying the Labor Party, which he heads, will take on the memorial. Herzog and MK Tzipi Livni, the two leading figures in the Zionist Union party, decided to turn the annual rally into a protest against government actions that harm Israeli democracy.
Herzog took advantage of the politicized environment that his Zionist Union Party's funding the rally provided by harshly criticizing Prime Minister Benjamin Netanyahu. "I say, 'This far (and no further),'" said Herzog to the crowds. "The time for talking has ended, the time for a unity government has ended. We will not allow any person, any bully, any leader to continue to incite and to hate. Not a member of Knesset, not a minister, and not a prime minister."
MK Tzipi Livni and referred to Coalition Chairman MK David Bitan's earlier statement that Rabin's assassination was not political, saying "We came here today to prevent the next political assassination—and yes, Rabin's murder was political." She, like Herzog, criticized many recent actions of the political right in Israel.
Friday, Rabin's family travelled to the state cemetery on Mount Herzl to visit his grave."I am beginning to think that the incitement beforehand actually still isn't over," said his daughter, Dalia Rabin-Pelossof. "This is a murder and this is a death that has not reached a consensus to this day. Entire parts of this nation hide behind all kinds of defenses that permit them to say that maybe it was good that he was murdered." She added that those sections of society continue to mock and curse the Rabin family.