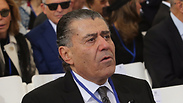 Haim Saban. Organized the event.
Photo: Gil Yohanan
Two of Hollywood's most famous actors experienced a tense moment at a fundraising gala for the Friends of the Israel Defense Forces (FIDF), a non-profit dedicated to the well-being of IDF soldiers. The gala was held Saturday in Los Angeles.

Actors Robert De Niro and Arnold Schwarzenegger were to pose for a photo together, but instead of smiling and standing still, they began a quite intense argument about the upcoming US presidential election (which takes place Tuesday).

The Oscar-winning De Niro is a strong supporter of Democratic nominee Hillary Clinton, and began questioning Schwarzenegger, the Republican former governor of California, about whether he was voting for Republican nominee Donald Trump.

Schwarzenegger was a supporter of Ohio Governor John Kasich in the Republican primary elections, but when Kasich withdrew from the race his position became slightly unclear. On October 8, he released a statement on social media site Twitter, in which he wrote, "For the first time since I became a citizen in 1983, I will not vote for the Republican candidate for President."

"Are you voting for Trump?" De Niro asked Schwarzenegger, later telling him – according to Variety entertainment magazine – "If you're not part of the solution, then you're part of the problem."

Schwarzenegger apparently didn't give answers to De Niro's satisfaction, and so the two continued to argue despite the photographer's pleas for calm.

The event, organized by Israeli-American billionaire Haim Saban, was hosted by Israeli model/actress Moran Atias, and was attended by other stars such as Gerard Butler, Jeremy Piven, Larry King, and Joanna Krupa. The gala raises $38 million for IDF soldiers.