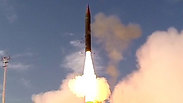 Arrow 3 test
Photo: Defense Ministry
The Defense Ministry is seeking to outsource and privatize the Air Force's Missile Test Unit, whose responsibilities include testing the Arrow missile defense system and launching Ofek satellites into space, Yedioth Ahronoth has learned.

The Israel Aerospace Industries (IAI) and Rafael Advanced Defense Systems are both competing for the bid, the former being responsible for the manufacturing of the Arrow missile-defense system, the Ofek satellites and the space launch vehicle, Shavit.

Rafael, meanwhile, manufactures the Iron Dome and David's Sling missile-defense systems, and conducts tests for these systems in its own testing grounds in southern Israel.

Ofek satellite launched into space

The IDF spokesperson's Office confirmed the report, saying "As part of the IDF's multi-annual plan, the IAF is examining the financial feasibility vis-à-vis operational considerations on a variety of topics. As part of the process, it was decided to outsource certain aspects of the Missle Test Unit's operations to allow the unit to continue providing a professional service while reducing costs. It should be emphasized that regardless, the issue of safety will remain solely under the responsibility of the Air Force."