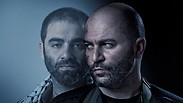 Online television company Netflix has purchased the Israeli political thriller series Fauda, which is based on the activities of the Mista'arvim unit in the Israeli Army that uses special operatives to infiltrate terrorism cells.

The series' main plotline during its first season focused on the unit's attempt to capture a top Hamas official. The show garnered a great deal of support in Israel and the Arab world, and won the Ophir Award for Best Drama.

Rather than filming an English-speaking version, Netflix will be airing Fauda's first season in its original Hebrew and Arabic. The show will be available through Netflix's online services starting December 2.

The deal will list Fauda as a Netflix Original Series—the first Israeli show to get the title. The company has also already purchased the series' second season.

Fauda will be launched at a premiere event in Los Angeles on November 28, which will include series creators Avi Issacharoff and Lior Raz, who also stars in the show.

Last week, Netflix purchased the Israeli television show Mossad 101, which details the fictional preparatory course of Mossad agents.