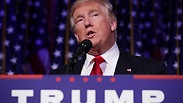 US President-elect Donald Trump
Photo: Getty Images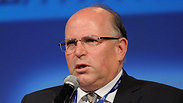 Dr. Uzi Arad
Photo: Ori Porat
Israel-US relations have already experienced many dramatic transitions of power in Washington, including a sharp transition from one party to another, the election of new presidents whose style was different from that of their predecessors, and even sudden, surprising changes in the administration.

When I first visited Washington, President John F. Kennedy was in the White House. A month later he was murdered, and President Lyndon B. Johnson assumed office. About a decade later, the political pendulum swung again, when President Richard Nixon was forced to resign over the Watergate scandal and was replaced by Gerald Ford. He was followed by the Democratic Jimmy Carter, who was replaced by the Republican Ronald Reagan, and so on and so forth.

One thing has remained consistent throughout the years, despite the political upheavals: Israel-US relations have been reinforced and tightened. Israel has a lot of practical experience in adjusting to the transition of power in the United States.

In general, the need for caution around election campaigns requires us to apply the guiding principle that if we cannot control things and don't have to choose – there is no need to gamble either. In other words, we must maintain the "security margins" when shaping a policy and take both options into account regardless of their probability.

The moment Donald Trump defeated his rivals in the primary elections, the possibility that he would win the presidential election should have been taken into account. In Israel, this possibility was not repressed at all, as many in the government were prepared and even hoped for it.

So what will happen now is a familiar practice: We will begin a networking process with the new administration, as well as with the incoming Congress, in order to synchronize our security and diplomatic interests with the American policy taking shape. The prime minister and the President-elect will likely meet in the near future. After all, the Israeli prime minister's main mission is to reach a good relationship and work relations with any American president. Not to mention the fact that Trump seems to sympathize with Israel. Israeli government officials are acquainted with many of the people who are slated to assume positions in the new Trump administration.

The expected change in US policy will likely have extensive systemic implications in the global and regional arena. Under Trump, changes will likely take place in the American direction and level of involvement. That change will probably allow – or even require – a wider maneuvering area for political or military action on Israel's part. In any event, the Israeli interest is to get help from our American ally and be coordinated with it.

Israel also needs to tighten its cooperation with the US and improve it in crucial areas in a way which was not exhausted under the Obama administration. For example, in preventing Iran's nuclearization and in the battle against radical Islam. We will have to be on the same wavelength with the US in terms of diplomatic agreements as well, in order to ensure that we have its support.

Alongside improving the relationship with the US, Israel must also make sure to reinforce its independent strengths. The recent developments in America and in the international arena require us to look inside and also deal with the apparent trends of erosion in the Israeli educational and governmental systems.

In order to be able to successfully pass the upcoming tests that are still ahead of us, Israel must understand that a lot of what it has to do starts at home. In an era in which the US adopts an isolationist line and takes a step backwards, Israel must work to strengthen its abilities on the diplomatic, military and economic levels.

Outwardly, it will be able to fine-tune its international conduct and maneuver vis-à-vis key states in order to advance its interests. Israel has many international maneuvering areas which do not contradict the US policy, and we must take advantage of that in order to work both with the US and independently to advance our security, diplomatic and economic position.

Dr. Uzi Arad served as national security advisor to Prime Minister Benjamin Netanyahu and head of the National Security Council between 2009 and 2011.