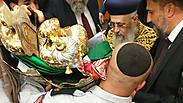 One year later
Photo: Beit Shemesh Firefighting and Rescue Commission
One year after a fire completely destroyed the Hazon Yehezkiel Synagogue in Mevaseret Zion, firefighters who risked their lives to save Torah scrolls from the inferno danced with them at the inauguration ceremony of the restored synagogue on Sunday.

In addition to the firefighters, Sephardic Chief Rabbi Yitzhak Yosef, the commander of the Mevaseret Zion firefighters and local mayor were in attendance.

דוברות כבאות והצלה בית שמש

About a year ago, on the morning of the Simchat Torah holiday, a large fire broke out in the synagogue that threatened not only the sacred texts therein, but also the neighboring buildings, which happened to include another synagogue and an elementary school.

Firefighters struggled to control the conflagration for four hours, managing to prevent the fire from spreading. No persons were injured.

Astoundingly, the Torah scrolls were recovered with either no damage or just light damage to their covers.

In the re-inauguration ceremony of the synagogue, the very firefighters who had saved the scrolls were given the honor of returning them to the rebuilt ark. The Mevaseret Zion firefighting chief, Reshef Elian, said, "The Torah that has instructed the people of Israel for thousands of year; the Torah in which the commandment 'Therefore, watch out for yourselves!' which shows the way for fighters every day, every hour; the Torah in which the highest value is human life—it was rescued from the flames by those entrusted with saving lives."

He added, "Now, a year later, with the synagogue rebuilt, this is another euphoric moment, a moment when the voices of prayer will again flow though the synagogue's windows. Tongues of prayer, not tongues of fire… To the firefighters, I wish the blessing of the prophet Isaiah: 'When thou passest through the waters, I will be with thee, and through the rivers, they shall not overflow thee; when thou walkest through the fire, thou shalt not be burned, neither shall the flame kindle upon thee.'"