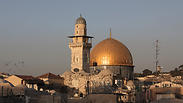 Jordan has issued a harsh response against the approval by Israeli ministers on Sunday evening of a bill to ban mosque muezzins from announcing prayer times via loudspeakers in the streets.

The Jordanian head of Al-Aqsa Mosque Affairs and the Ministry of Religious Endowments, Abdullah Al Awadi, said on Tuesday afternoon to the official Jordanian news agency that the bill, even if passed, will have no bearing on the mosques' practices.

"Every decision taken by the Israeli occupation which touch on the holy sites in Jerusalem such as, among other things, the muezzins bill, is an invalid decision and isn't recognized," he declared.

Awadi also cited international law as the overriding factor in the matter. "In accordance with international law, the occupier cannot make any historic changes in the city that it occupies and it is required to leave things as they are," he continued. "This proves that any Israeli decision on Jerusalem is null and void."

In a separate interview with the Jordanian newspaper, Awadi described the move as "a serious escalation of aggressive policies from the right-wing Israeli government against the Palestinian people." He also claimed that this was not the first attempt to silence the muezzins but rather this is part of an ongoing effort.

He concluded by calling on the Jordanian government to act against any attempt to restrict the traditional practices of Islam and promised that any such attempt would be defied.

"All the decisions that are taken by the Zionist entity don't touch Jordan. The muezzins will continue to sound their calls as always without fear of these decisions," he assured. "It is the Jordanian government's responsibility to act against any threat of a weapon that could be used against the muezzins in Jerusalem."

The bill has also drawn local criticism, and a demonstration against the it is planned for Wednesday in Tel Aviv-Jaffa at 18:00.