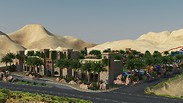 Project concept
Photo: Eilat Municipality
The Eilat City Council and local Planning and Building Committee approved the construction of a new water park in the southern part of the city during their last meeting.

The park, whose construction is expected to begin in 2017, is designed for an area of only 20 dunam, but is expected to include more than 30 water attractions.

The park will be constructed on the location of the now-abandoned "Texas Ranch," which used to be part of an old film set location. The site is set to be demolished before construction is slated to begin.

The city council notes that Eilat Mayor, Meir Yitzhak Halevy, has been active since the beginning of his tenure in discussions with landowners on the issue of development or returning properties to the Israel Lands Authority.

The plans for the park, which is to be called Luna Water Eilat, were submitted by a joint company comprised of Kibbutz Shefayim, Isrotel Management Ltd. and a construction company specializing in building water parks.

The proposed park will be able to accommodate 3,500 people and will contain a two-story building which will house shops, a cafeteria and conference area.

In total, the park will include an area of 2,830 square meters and be built adjacent to Nahal Shlomo. An estimated 100 workers, depending on the season, will be employed, and while entrance prices have not yet been determined, the estimated cost will be roughly NIS 75-100.

Facilities will include a wave pool, a 25-meter adult water slide and a children's area. According to Halevy, "The construction of the water park is consistent with municipal plans to increase tourism and develop other attractions in the city for benefit of both residents and visitors." Halevy went on to add that the city is planning to advance two other projects, another water park north of the Arava crossing and an underwater promenade.