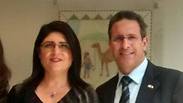 Ambassador Hayat and his wife
The diplomatic community in Chile is up in arms after the wife of the Israeli ambassador was not invited to an annual charity event held by the Diplomatic Spouses Club in the country because it it set to take place at a Palestinian venue.

The event, to which all of the other ambassadors' spouses in Chile have been invited, is set to take place on Sunday. Because the chosen venue is a Palestinian club in the capital Santiago, organizers told Michal Hayat, the wife of Ambassador Eldad Hayat, that they cannot invite her.

The ambassador's wife strongly protested this to the head of the Diplomatic Spouses Club, claiming it was a complete violation of the diplomatic code and arguing the organization was in effect supporting the boycott against Israel, which is led by the large Palestinian community in the country.

"If we had been invited, we would've been happy to attend," Michal Hayat told the organization's head. "You are politicizing both the organization and the event, which is meant to raise money for the needy in Chile."

The heads of the Chile Diplomatic Spouses Club did apologize, but stressed that it was too late to change the situation and that the event will go ahead as planned—without the Israeli ambassador's wife.

The organization added that some of the other diplomatic spouses canceled their participation in the event because of Hayat's exclusion.

According to the Israeli Embassy in Santiago, most Western countries have decided not to attend the event, including representatives from the US and most European countries.

Among them were Germany's ambassador and his wife, who expressed their uncompromising support in a conversation with Ambassador Hayat. The German diplomat went on to tell his Israeli counterpart that he and his wife have made their protest known to the president of the Diplomatic Spouses Club and to representatives from other European nations.

A similar message of support came from the husband of the European Union's ambassador to Chile.

In a letter to the diplomatic corps in the country, Ambassador Hayat wrote: "Our exclusion from the traditional charity event, because of political reasons, stands in stark contrast to the accepted diplomatic code. Those who attend the event will be giving their support to ugly and inappropriate politicization of an organization whose charter determines is a-political, independent, and without religious characteristics."

The Israeli ambassador plans to raise the matter in his meeting with the dean of the diplomatic corps, the Vatican's ambassador to Chile. He also updated the Israeli Foreign Ministry.