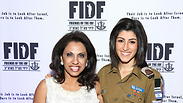 "What do you want to be when you grow up?" I ask Gideon Drucker. As soon as this young man completed his studies in international relations and economics at Lehigh University, he went on to serve as a paratrooper in the Israel Defense Forces (IDF), as part of the IDF's "Mahal" overseas volunteers program.
He answers without hesitation: "I want to work in my family business and inherit it in the future. I want to make a lot of money. I want to be able to make an impact on Israel's situation, to help it. To be the next Michael Oren."
He shoots out the whole list almost without taking a breath, building it up like a rising graph suitable for our times, and I have no doubt that he has plans, and that he will fulfill his heart's wishes.
Drucker grew up in a conservative home in the northern New Jersey town of Woodcliff Lake. It is a Zionist home, but the family has no blood relations in Israel. The Drucker family did not visit Israel when Gideon and his sister were young. But in recent years, they found themselves participating in tours of Israel – including visiting IDF bases – organized by the New York-based nonprofit Friends of the Israel Defense Forces (FIDF).
"The country suddenly becomes real when you meet its soldiers," Drucker explains. He had also gone on a journey to Israel with Taglit, upon which he discovered Israel from another perspective. His encounters with Israelis along the way made a profound impression on him, and their actions caused him to make the decision, immediately upon completing his studies at 20 years old, to board a plane to Israel and enlist in its military. That was the summer of 2014 and Operation Protective Edge was already underway.
There is no need elaborate on how his parents felt. "I did not think of the possibility that I would be killed in the army. I thought I must do my best, exactly as if I had grown up in Israel," he shares, with all the warmth of a young man who came to Israel to serve after college.
Eventually, Ari and Orna Eizman, and their children, Gadi, Shani and Maor, of Haifa, whom he met almost by chance, would become his adoptive family in Israel, he would become another son for them, and the families would unite as if they had always been one large family.
He does not forget to mention Ika Schwitzer, the first tour guide he met in Israel, who would eventually become his adoptive "uncle," and who was the first to open a window for him to Israel. "The closeness, the openness of Israelis is something special for me. I don't think that exists anywhere else in the world."
Drucker was one of the honored guests at the 12th Annual Tribute Dinner of the FIDF's New Jersey Chapter – also know as the "Lone Soldiers Chapter."
There are currently some 6,400 "lone soldiers" – those who enlist in Israel's military without any immediate family in the country – serving in the IDF. This number includes native Israeli soldiers who were orphaned, lived in foster care until the age of 18, or who have no contact with their parents.
There is another category of lone soldiers who have chosen to immigrate to Israel alone, while their parents live abroad. This includes those whose parents have emigrated or been sent abroad by the government or the Jewish Agency for a period of six months or more.
These soldiers all choose to serve the State of Israel by enlisting in its armed forces, like any other soldier. FIDF's NJ chapter has decided to make a special effort to support the lone soldiers who, at a young age, choose to leave behind their friends and families to volunteer in the IDF. Lone soldiers hail from 80 countries around the world, and some 880 of them are Americans. Some of them have no family in Israel. They come to Israel with various support programs, and, while not altogether unknown, they can only imagine what the future holds for them.
Male lone soldiers are much more likely to enlist as combat soldiers – a much more challenging route. Some of them do not speak Hebrew when they decide to enlist. For them, boot camp includes the regular stress of training that other soldiers experience, with an added emotional component. Not all can take this extra pressure, and many need help and support to make it through.
Friends of the IDF regularly holds fundraising events across the US, attracting those who hold Israel's soldiers close to their hearts. In NJ, among the audience of more than 400 were parents of lone soldiers, entire tables sponsored by local synagogues and Jewish schools, and, of course, the large audience attracted the chapter's co-founders: FIDF National Board Member Sammy Bar-Or, who moved to Israel from Iran when he was 13 and served as a lone soldier in the IDF's Paratroopers Brigade; fellow former IDF Paratrooper Mike Gross, who also served as a lone soldier, and Avi Oren.
Last night's gala evening featured keynote speaker Brigitte Gabriel. A Maronite Christian born in Marj Ayyun, north of Metulah in Lebanon, Gabriel was very excited to be taking part in this important evening. Gabriel, anti-Islamic extremism activist and journalist who isn't afraid to stir things up, opens the conversation (how else?) with a frighteningly topical statement: what is happening in Europe with the Muslim extremism is only a preview of what will soon occur in the US. She calls upon America to stand strong against the rising tide of extremist Islam, and asks terrorist leaders to understand that they have no chance of winning a fight against Israel; she recommends, for their own sakes, that they take the path of peace. "Islam is controlled by radical Muslims," she told me. Having read the Quran in its original Arabic, she is particularly able to interpret Mideast events, especially considering her extensive experience as a reporter based out of Jerusalem's International Convention Center.
"It is true that the majority of Muslims are not extremists, but they still tend to follow the Islamic fundamentalists. They receive instructions and carry them out – just like the Nazis who burned Jews alive. Today, extremist Muslims do not hesitate to cut off heads and to teach their evil ways to young children. They are barbarians. The Muslims learned from Muhammad, just before he died, that the Jews are the enemies of Allah and must be killed before the arrival of Judgment Day. Since then they have been brainwashed," Gabriel explained.
Needless to say, as a result of her public outspokenness on the topic, her life is in constant danger. "Hezbollah wants me dead. Muslim extremist organizations are after me," she said, speaking from her home – the location of which I can't disclose. "I go out only with bodyguards; otherwise, they will kill me."
Just before the recent elections she declared her support for Trump: "He does not depend on outside money, and is not supported by organizations who support Islamic extremists. He is good for Israel." She hoped he would be elected and she got her wish.
Her love of Israel is built on ruins. Gabriel's story begins in a country that once was Christian, enlightened, with a stable economy, open borders and some of the best academic institutions in the Middle East. "Three waves of immigration of Palestinians from Jordan altered the map in the 1970s," she said sadly. "They joined the local Muslim population, and started fighting the Christians. Yasser Arafat set up his base in Lebanon in order to go out and fight Israel from there. He wanted to see (the Jews pushed) into the sea. He exploited the Lebanese democracy in order to execute his scheme."
Gabriel describes the background for the beginning of the fall: "My personal 9/11 was in 1975, when the Palestinians blew up my home and buried us under the rubble – all while shouting, 'Allahu Akbar.' I was in the hospital for two and a half months. My father told me, 'Because we are Christians, the Muslims treat us like infidels. They want to kill us.' As a 10-year-old child that is what I internalized: being Christian equals death."
After years of sitting in bomb shelters, with surrounded by enemies, Gabriel and her family realized that the only people in the world sharing similar values were the Jews, and a number of men escaped from Marj Ayyun to Metulah to ask for help from a military patrol. They met with Israeli leaders and that same night Israeli soldiers came with equipment, food, medicine and blankets.
In 1978, they learned from their radio that that night they would be killed. The little girl put on her Sunday clothes – her burial clothes, and prepared for death. "I wanted to die beautiful. I knew there would be nobody to bury me after they slaughtered me, and I was only 13."
Her father directed the family, should the worst come to pass, to run towards Israel and not look back. That very night the Israel Defense Forces entered South Lebanon, in Operation Litani, a few days after the terrorist attack known as the "Coastal Road massacre," with the aim of destroying the terrorist infrastructure in South Lebanon.
Thanks to the IDF, the Gabriels survived another five years. "In the first Lebanon War, my mother was wounded and treated at the Ziv Medical Center in Safed for 22 days." Those days changed Gabriel's life. She learned about life in Israel, received support, saw true warmth and love, and found Israeli friends. Mothers of wounded soldiers gave her a helping hand. "In our head, Israel was the enemy. Under fire, we learned who our real friends were." When she left Israel at age 17, Gabriel swore to return and live there.
And so she did. In 1984 she began working as a broadcaster for Middle East TV at the International Convention Center in Jerusalem. She lived in Mevaseret Zion until 1989. "I did not leave Israel until I buried both of my parents. They lie on Mount Zion, alongside the grave of Oscar Schindler, the righteous gentile who saved more than 1,200 Jews during World War II. I hoped in my heart that one day, when I had children, they would always want to come to Israel."
Brigitte Gabriel's spokesmanship activity started with the commencement of the second intifada in Israel, when suicide bombers began attacking civilians in the streets. Gabriel felt it was her duty to speak directly and to present the facts from her point of view, even though she was not Jewish. "I tried to convert to Judaism twice, but I could not come regularly to the lessons and I dropped out," she said, laughing. "I think it was better that I remained a Christian – my words come from a much stronger place." This is said by the woman who stood on stage at the United Nations to give a 13-minute speech (that later went viral on social media) in favor of Israel and railing against radical Islam.
Gabriel does not spare America, arguing that it does not understand extreme Islam at all, and explaining why people here should support Israel tirelessly. It is important for her to clarify to Americans – and the whole world – that Israel has been fighting radical Islam for almost 70 years. The woman who bore her first son at the Misgav Ladach hospital in Jerusalem tells, with tears in her eyes, of her longing for her homeland, and the knowledge that neither she nor her children will ever be able to return there again.
Gabriel believes in actions. Alongside her first act – burying her parents in Jerusalem as a clear statement of faith in the State of Israel – she supports many Jewish organizations. She is a member of the Hadassah Women and donates money to support academic scholarships for lone soldiers. "I believe that actions speak louder than words," she declares and acts. She heads the organization Act for America, which has more than 300,000 members from all walks of life. Gabriel says: "If not I, then who? If not now, when?"
For more information or to support FIDF, please visit this site or call +1 (646) 274-9646.