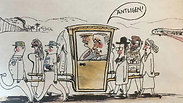 Israeli ambassador in Sweden condemns anti-Semitic caricature
Swedish daily Dagens Nyheter publishes a cartoon showing Trump and Netanyahu being carried in a litter by a Klansman, a Jew and Israelis, inter alia; many are offended, deeming it anti-Semitic; editor-in-chief regrets publishing a caricature that could be misinterpreted, though insists that it is not anti-Semitic; Amb. Isaac Bachman says it's not the first time that the caricaturist has shown anti-Jewish tendencies.
A controversial caricature associating President-elect Donald Trump and Israeli Prime Minister Benjamin Netanyahu with the Ku Klux Klan that was published by national Swedish newspaper Dagens Nyheter (DN) on Sunday is being described as anti-Semitic by commentators, prompting the newspaper to apologize.
The caricature depicts Trump and Netanyahu being carried by hand in a litter by several people, one of whom is wearing a white sheet identified with the American white supremacist organization, the KKK. The cartoon also depicts a Haredi man and an Israeli flag in addition to a text bubble containing the word, 'Finally!'
According to the Swedish news site the Local, journalist Annika H. Rothstein argued that the cartoon is overtly anti-Semitic, a comment with which writer Rebecca Weidmo Uvell concurred when she tweeted: "How can you publish clearly anti-Semitic propaganda? Jews carrying Trump together with the KKK?"
The Local said that the Stockholm-based DN answered Uvell by stating that Netanyahu "celebrated" Trump's victory despite his controversial remarks throughout his campaign and despite his alleged support for the KKK. The cartoon, the paper therefore concluded, was a legitimate representation.
Despite the response justifying the cartoon, the paper's Editor-in-Chief Peter Wolodarski admitted on his Twitter page that its publication was a mistake. "Throughout the years we have published many caricatures which were not always consistent with the newspaper's stance, and that is how it should be," the tweet said.
"The problem with the caricature that was published on Sunday is that it is open to other interpretations besides that which was intended. For that reason, it should not have been published even if there is legitimate criticism that can be levelled against Trump and Netanyahu," Wolodarski continued.
However, Wolodarski, whose own parents are Jews that immigrated to Sweden from Poland, insisted that the caricature is not anti-Semitic and stressed that he was joined in this position by an historian who has studied anti-Semitism and whom Wolodarski consulted to receive his opinion.
Israel's ambassador to Sweden, Isaac Bachman, posted a response on his Facebook Timeline that stated that the caricaturist "is as ignorant of Israeli realities as he is consumed with animosity against its people. It is not the first time that he has published terrible cartoons on the subject of Israel – images which inscribe themselves in the tradition of a very particular iconography of infamy, with a scent of anti-Semitism."
Bachman did see a silver lining, however: "If one is to look for any sign of encouragement or bright spot in this very sordid and discouraging affair, it is the outcry of so many against an image felt to cross all lines of decency. This shows that a healthy sense of judgment is largely prevalent, despite all. "