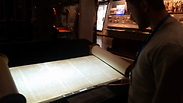 From the Jewish Museum and Tolerance Center in Moscow
Photo: Itzchak Tessler
UNESCO grants award to Jewish museum in Moscow
Offering some balance to a resolution from last month that failed to recognize the Jewish people's connection to Temple Mount, the UN heritage body UNESCO bestows a prestigious award upon the Jewish Museum and Tolerance Center in Moscow; A Putin favorite, the museum will receive the award for disseminating messages of peace.
The United Nations Educational, Scientific and Cultural Organization (UNESCO) has given the Jewish Museum and Tolerance Center in Moscow a distinguished award for its efforts in spreading tolerance and understanding. The choice was met with a level of surprise, as just last month the UN body refrained from acknowledging the Jewish people's link to Temple Mount.

Russia's Chief Rabbi Berel Lazar responded to the award on Wednesday, saying that the Russian government, and President Vladimir Putin in particular, respect the Jewish community and allow them to live a safe life. He went on to say that Russian Jews are far better off compared to the Jews of some other European capitals.

The museum was granted the award—which amounts to $100,000—a few days earlier, at a special ceremony in Paris. Receiving the award was museum CEO and The Federation of Jewish Communities of the CIS (Commonwealth of Independent States of the former Soviet Union-ed.) President, Rabbi Alexander Boroda.

Putin has exhibited a great deal of interest and warmth toward the Jewish museum, which was partially funded by the Russian government. In the four years since its founding, the Russian president has visited it three times, and during his last visit he announced his desire to donate a portion of his monthly salary to the museum. This in turn prompted other public figures to follow his lead. The museum is also visited by all public schools in the capital despite the fact that the percentage of Jews within Russia's population remains very low.

The museum was inaugurated in the presence of then-president Shimon Peres. It cost $60 million to build and includes interactive features such as a four-dimensional movie screening detailing the story of the Jewish people and humanity, from the dawn of time to the present. A part of the museum is dedicated to the Holocaust and another to the Russian roots of Zionism. Though the museum's signs offer information in Russian and English alone, it does feature Hebrew guides.