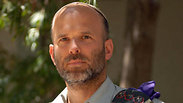 Jonathan Baranski
Photo: IDF Spokesperson
Former Gaza Division head: When female fighters train, base's condoms run out
An inquiry by Yedioth Ahronoth finds Col. (res.) Jonathan Baranski's claim to be, in fact, antithetical to the truth; he says that female fighters aren't needed; a female officer in Caracal: 'Remarks of this kind are made to sabotage the integration of women in the IDF.'
Former Gaza Division commander Col. Jonathan Baranski has incurred the wrath of female combat soldiers by telling Army Radio that the IDF has no need for them. He further incensed the Caracal Battalion when he asserted that when they arrive in training bases, "birth control runs out at the base canteen," despite evidence to the contrary.

"These are crazy lies by racist people who live in the old world," said A., one of the maligned female soldiers in the battalion. "They turned us into the company's mattress. Instead of hearing encouragement for women to serve in significant positions as fighters, all of the chauvinists are coming out of their holes and attacking us. It's crazy that these are the things we have to endure after choosing to volunteer to serve three years as combat soldiers, with everything that entails. Our best response to that is that we will continue enlisting in combat roles. I call on all girls who feel like they are able and willing—enlist in a combat role, you're worth exactly the same as the boys."

A female officer serving in the battalion added, "I'm aware of what's going on in the battalion and there is no promiscuity. There are rules in the IDF and we follow them to the letter. Remarks of this kind are made to sabotage the integration of women in the IDF. The women in the IDF are in the best place there is, and there are extreme elements that are pained by this. We must continue working towards equality, including the integration of women in the Armored Corps."

Baranski made his controversial statements to Erel Segal on Army Radio. He said that an investigator arrived at one of the training camps in southern Israel to study the mixed battalions. "On the way, he stopped by the base canteen and the seller told him, 'See the shelf behind me? Every time the Caracal Battalion is here for training, my shelf empties within half a day—something that usually takes weeks. And everyone's coming to buy: officers and soldiers alike, from the base and the battalion.'"

But an inquiry by Yedioth Ahronoth of base canteens found that sales of birth control were lower in bases where mixed battalions were training compared to bases where only men train.

Col. Baranski, who is planning on running for parliament in the next election as part of Bayit Yehudi's Knesset list, insisted to Yedioth, "The IDF doesn't need female fighters. Incorporating female fighters in combat units necessarily leads to damage on the operational level. Not because they're not as good, but because of physiological differences. In addition, putting female and male soldiers together inside a tank is impossible. And the last thing is that the incorporation of religious men in the army could be negatively affected following the integration of women in the Armored Corps."

He added, "I don't have anything personal against the female soldiers. I think that they're of a high quality and idealistic. It's not their fault, but that of the system that's leading to this. We don't we hear about women's organization coming out against male soccer and basketball teams that don't integrate women? Also, the number of stress fractures with female combat soldiers is a lot higher than with men."

Ravital, the mother of one of the female soldiers in Caracal, asserted that Baranski unjustly denigrating an entire group of women. "There's a former officer here with dark opinions that's causing a group of high-quality girls to be perceived as cheap in public opinion. It's a disgrace that a stage is being given to such a dark and inciting man who's coming out against girls who make a greater effort than everyone else for the security of the country and its residents. I told my daughter to hold her head high and not to get emotional from those stupid statements. They're real queens, and no disgruntled reserves officer is going to change that."

Baranski clarified that he has nothing against women serving in the IDF in general: "Women have important roles in intelligence, in training and in other places. Sometimes women are even better than men in certain positions that don't require a physical challenge. This opinion isn't politically correct, but lots of people think like that. Instead of female combat soldiers, more Haredi men should be drafted."