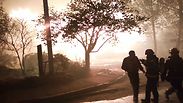 Fire in the settlement of Halamish
Judea and Samaria Firefighting and Rescue
Fires continue to be extinguished in Jerusalem Hills, West Bank, after firefighting teams worked through the night
Breaking: Houses burn in Halamish and electricity is turned off in several West Bank settlements, as fire fighting efforts continue through the night; 1 person severly injured, 2 moderately injured; arson is being investigated as the cause for the fires.
As fires spread throught Israel for the fifth day and firefighters take on the spreading fires throughout the Jerusalem Hills, a fire broke out on Friday in the West Bank settlement of Halamish. 20 firefighting teams were called on to halt the spreading fire before it reaches the settlement. Several of its, houses, however, caught on fire, and all 350 families were evacuated from their homes. On Saturday morning, it was reported that firefighting teams have taken over the fire in Halamish.
The fire in the West bank settlement of Ma'ale Adumim was also extinguishd, after it took hold of a building. Residents of the building were rescued from the burning structure while relying, among other methods, on a crane for their extraction.
Three of the extracted residents in Ma'ale Adumim were seriously injured upon rescue, with two of them moving down to moderately injured. If was later found that a short circuit had caused the building to catch fire.
Though they have managed to ward off the fire from the settlement of Nataf (located in the Judean Mountains), firefighting teams have yet to completely stamp it out, and are currently working to put out the remaining flames.
Fire in Halamish (צילום: גיל יוחנן, אורן רוזנפלד, רן ברגמן, אודי גל כב"ה ירושלים)
During Friday night and on Saturday morning, 15 houses in Halamish were burnt down and 25 were damaged from the flames. Four people were lightly injured there, two of them firefighters. Supertankers that were called upon helped put out the fires in the settlement, as did three Palestinian fire engines from Ramallah.
Jerusalem Fire Department Spokesperon Asaf Avres spoke to Ynet following the fires. "I'm still in Halamish, and we're scanning the area. I'll share with with you from my own, pretty vast experience, that yesterday's sight was a hard one. Houses falling down and burning in a domino effect, cars, yards and what have you. After seeing it in the day light, my heart goes out to the residents." He added that "I've been a firefighter for 23 years. I was at the Carmel disaster, but I've never had a week like this one. It was truly scary last night."
The Halamish settlement's spokesperson's unit issued a statement, saying, "The settlement was hit a blow last night, but we are strong and can handle it. The settlements and regional council's welfare teams have been working since the beginning to care for the residetns who had been evacuated from their homes."
Three people from the West Bank settlement of Ma'ale Adumim were taken to the hospital for care. One is lightly injured and two are in shock. Five people were lightly injured were taken for care to Hadassah Medical Center, with one there remaining in serious condition. Two patients have been admitted to Asaph Harofeh Hospital and are treated there in a pressure chamber. Both are in moderate condition.
In an effort to mitigate the fires, electricity was turned off in the West Bank settlements of Halamish, Neveh Tzuf, Ateret and Nahliel on Friday night and Saturday morning. The Israel Electric Corporation is preparing to carry out infrastructure work in Halamish.
Omri Efraim and Roi Yanovsky assisted in this story.