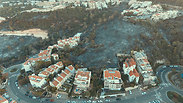 180 injured, 560 homes burnt after 5 days of raging fires
Some 2,500 firefighters marshalled, half a million tons of water and flame retardant unleashed in 480 missions to battle the flames which incinerated hundreds of homes, forced the evacuation of hundreds of thousands; after 5 days of blazes, authorities report that flames finally brought under control.
After five consecutive days of fires wreaking havoc throughout the country, firefighters from both Israel and abroad have finally managed to bring the flames under control with 180 people injured, according to Magen David Adom paramedics.

Haifa, Israel's third largest city, bore the main brunt of the wave of the fires with 527 apartments rendered uninhabitable as the flames engulfed vast areas.

As swathes of the country were still smouldering, security forces began making arrests against a number of individuals suspected of deliberately starting the fires in an act of terror, along with those caught on social media networks inciting readers to arson.

During a press conference held on Thursday, Prime Minister Benjamin Netanyahu himself warned that the the population could be witnessing a new phenomenon of terror.

Overall, three people were moderately injured as a result of the conflagrations, one senior from Haifa, two from Ma'ale Adumim and another 129 who were left in light condition. According to estimates, another 50 people admitted themselves to hospital in light condition.

Over the weekend, 186 fresh fires lit up the country, marking a marginal decrease from an average of 200-250 daily fire incidents.

As fire crews fought around the clock to quench the flames, last week saw the deployment of approximately 2,000 firefighters, along with 450 IDF Search and Rescue soldiers and 69 Cypriot soldiers.

The firefighting forces unleashed a total of half a million tons of water and flame retardant. Ten countries contributed to the effort while 14 Israeli firefighting planes took to the skies, with the number of combined missions reaching 480.