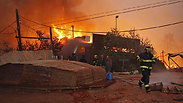 Last week's fire in Nataf. It all began with online incitement?
Photo: AFP
Government incitement is worse than online incitement
Op-ed: While Netanyahu and some of his ministers used every opportunity to declare that the fires were the result of 'a nationalistic wave of terrorism,' they avoided reaching a decision declaring just that in the latest cabinet meeting. Why? It's all about the money.
Days of incitement are not a good time for irony and satire, Anas Abu Dabas has recently found out. Abu Dabas, a journalist and social activist from the Bedouin city of Rahat, wrote two critical posts on Facebook several days ago, mocking all those who rejoiced over the fire raging in Israel.

In the first post, he protested the ignorance and unawareness of Arabs living outside of Israel, who are praising and glorifying God for the fact that "our country is being burned."

"It's remarkable how the brain can stop thinking and become such an idiotic thing," he wrote.

Up to this point, according to Judge Alon Gabizon, Abu Abas was still entitled to remain a free man. The problem started with the second post, in which he unfortunately used ironic and satirical language. His literary choice cost him dearly: His text was too sophisticated and too difficult to crack for the police translators, who completely misunderstood his intention.

The judge found it difficult to interpret as well. He ruled that what Abu Dabas had written was enough to "establish a reasonable suspicion, at this stage, of incitement and damage to the state's security" and put him under arrest.

"One who writes on the internet must carefully consider what he writes," the judge noted. "Moreover, he must carefully consider how the things he writes will be understood."

That's solid advice, but if the police were to act according to the standards set by the judge to define an act of incitement, the courts would be filled with all those who wrote inciting comments against the Arab population—using clear, unsophisticated, non-satirical and unironic language.

This case may serve as evidence that judges do not live in a void and that their rulings are influenced by the public atmosphere.

Abu Dabas' arrest is not incidental. It is in line with the worldviews of Public Security Minister Gilad Erdan, who sees the raging incitement online as responsible for all terror attacks and for any harm caused to Jews. If it were not for Facebook and Google, the country would be calm for at least 40 years. According to Erdan, the important thing is not what happens in the reality of the Jewish-Arab conflict, but what people write about it on social media. He reiterated this view in a special cabinet meeting convened in Haifa, when he stated that "it all begins with online incitement."

Online incitement is a problem that should be handled by the law, but the more important problem of incitement—which has long-term ramifications that are much worse than the damage caused by the recent fires, and which will need more than a Supertanker to put out its flames of hate—is the one which Prime Minister Benjamin Netanyahu and some of his ministers and coalition members are part of.

These elected representatives rushed to stain an entire public of citizens as terrorists. According to the education minister and the prime minister, "This is not an incidental spate of fires—this is a nationalistic wave of terrorism caused by fire terrorists."

These fire terrorists are Arab citizens, some of whom were victims of the fires, others helped their Jewish neighbors in Haifa, in Abu Gosh and in other places. It is a public whose leadership firmly condemned those who started some of the fires and called for strict punishment.

But while the prime minister, the education minister and other ministers used every opportunity to declare that the fires were the result of "a nationalistic wave of terrorism," they avoided declaring just that in the latest cabinet meeting.

Declaring that the fires were "acts of terrorism" would mean that the damages citizens suffered as a result of the fires would have be paid by the state rather than by insurance companies. So the incitement apparently continues as long as it pays off politically. It stops as soon as a financial price has to be paid for it.