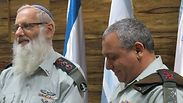 change of command ceremony
Eyal Karim assumes position as IDF chief rabbi
In a change of command ceremony held Thursday night, Brig. Gen. Eyal Karim assumes his position as chief rabbi of the IDF after being sworn in by Chief of Staff Gadi Eisenkot; Karim: 'The military rabbinate needs to be a force for unity. We will only have one army, an army of the people, that all soldiers can find their place in.'
Brig. Gen. Eyal Karim officially took his position as chief rabbi of the IDF Thursday evening after a change of command ceremony at the IDF headquarters in Tel Aviv attended by Chief of Staff Gadi Eisenkot.

During the ceremony, the chief of staff said, "The appointment of chief rabbi of the IDF is an extremely significant event in the army. Unfortunately, the ceremony took place a week late," added Eisenkot. "I was convinced months ago that we are choosing Rabbi Eyal Karim for the job. He is the most fitting and appropriate choice for command and rabbinic authority in the IDF. I had no doubts."

Following his official promotion, Karim took spoke at length, saying, "During this journey of thousands of years, Israel drew its strength and spirit from the Torah—all its laws, values and morality. These are the foundation stones of the Jewish people. David Ben-Gurion, who asked Rabbi Goren to be chief rabbi, understood that the army has to address a wide range of people without creating a splint in the army. He understood that there had to be a way for all soldiers to have a fulfilling service in the IDF together.

"The military rabbinate needs to be a force for unity. We will only have one army, an army of the people, that all soldiers can find their place in. The military rabbinate, by its very nature, is firmly rooted in Jewish law, values, morals and thought."

The storm that surrounded Karim's appointment to the position continued Thursday when the issue of women in tanks arose in comments. Sephardi Chief Rabbi Yitzhak Yosef praised Eisenkot for "knowing to think twice about the possibility of putting a man and woman together in a tank."

Eisenkot added during the ceremony, "The public and media discourse comes from ignorance, half-truths and disinformation. This is a discussion that seeks clarification on the possibility of expanding roles for women in certain positions in the army while maintaining common service and the appropriate combination. No one has put men and women together in tanks yet. This discussion requires thought. This is becoming a discourse that contributes nothing to the strengthening of the IDF and Israeli society and I regret that."