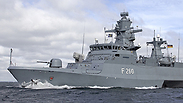 A United Arab Emirates-based company is contracted to help build warships for the Israeli Navy, Yedioth Ahronoth has learned.

As part of a large-scale deal signed with German conglomerate ThyssenKrupp, which also included the purchase of three submarines, Israel bought four Sa'ar 6-class corvette warships in 2015.

The warships, that among other things will be entrusted with the protection of Israel's gas rigs, will be partly built by Abu Dhabi MAR, the leading shipbuilding company in the Persian Gulf.

The company's CEO is French-Lebanese businessman Iskandar Safa, who owns 30 percent of its shares via the Beirut-based Privinvest Holding Group. The remaining 70 percent belong to UAE-based Al Ain International Group.

In 2009, Abu Dhabi MAR and ThyssenKrupp Marine Systems began talks on a long-term cooperation agreement, which was signed in April 2010.

As part of the agreement, Abu Dhabi MAR was to buy ThyssenKrupp's civilian shipyards, while the two companies will have a "50-50 strategic partnership" in the military shipbuilding sector.

However, in mid-May 2011, ThyssenKrupp surprisingly announced that the strategic cooperation had failed and that its agreement with Abu Dhabi MAR was canceled.

Before the cancelation of the agreement, however, ThyssenKrupp sold its civilian shipyard HDW Gaarden in Kiel, Germany to Abu Dhabi MAR in 2011.

Then, when the civilian shipbuilding business was struggling, the Kiel shipyard started catering to the military sector as well.

In March 2015, two months before the deal between the Israeli Navy and ThyssenKrupp was announced, the shipyard, which changed its name after the sale to Abu Dhabi MAR Kiel, changed its name again to German Naval Yards.

Media reports suggested the Arab name was in the way of the deal with Israel and was consequently changed. These reports have not been officially confirmed, however.

German Naval Yards Kiel confirmed to Yedioth Ahronoth that it is "being used as a subcontractor for ThyssenKrupp Marine Systems. Its role in this deal (with the Israeli Navy) is to contribute to the engineering of the vessel and build it in the Kiel shipyard. The shipyard was in contact with the Israeli side only through ThyssenKrupp."

Israel's Defense Ministry said in response: "The contract for the acquisition of the warships was signed with a German company, with the direct involvement of the German government—which even funds a third of the deal. Ahead of the deal signing, the Director of Security of the Defense Establishment checked with German government officials to ensure no classified information from the project is given to unauthorized bodies. It's important to note that the German shipyard only builds the hull of the warships, with the rest of the systems being installed in Israel."

On Friday, it was reported that the Iranian government has shares in ThyssenKrupp, and has made some 2 million euros over a decade off dividends.