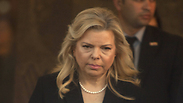 Sara Netanyahu
Photo: Gettyimages
Police say evidence justifies charging Sara Netanyahu
Prime Minister Benjamin Netanyahu's wife questioned over misusing state funds for personal use, including providing her late father with a helper, ordering expensive catering services for Israeli guests, and employing an electrician on Yom Kippur; Netanyahu family demands checks be conducted into leaks of questioning transcripts.
The Israel Police have determined that no change should be made to conclusions drawn half a year ago according to which there is prima facie evidence justifying that Sara Netanyahu be brought to trial for three affairs of fraudulently obtaining benefits under aggravated circumstances.
The deductions were drawn after Mrs. Netanyahu was questioned for 11 hours last Thursday over matters pertaining to suspicions of misdirecting and abusing state funds to personal ends. The lengthy session is likely to be the last in a drawn-out police investigation of the Netanyahu family.
The main matters about which Mrs. Netanyahu was questioned were the employment of an assistant in the Prime Minister's Residence for her late father, the ordering of highly-priced catering for Israeli guests at the residence which were subsequently recorded as meals for foreign guests, thereby entitling them to make more expensive orders, and receipts indicating that an electrician was asked to work on Yom Kippur.
Throughout the questioning, which began at around 5pm, Mrs. Netanyahu cooperated fully with her questioners and insisted that she had no involvement in the use of any levers in the PM's residence and that she did not demand that anyone carry out any acts whatsoever in contravention of the rules.
Meanwhile, the Netanyahu family has asked the Attorney General Avichai Mandelblit to look into the possible leaking of transcripts from the investigation of Sara Netanyahu, which were published on Channel 2 News.
Speaking on behalf of Mrs. Netanyahu, Attorneys Yossi Cohen and Amit Hadad said: "This is not a new investigation but rather the completion of one relating to things that were already checked more than a year ago. We state with full confidence that these are trivial matters and in any event there cannot be anything to them because there is nothing."
Mrs. Netanyahu's questioning was a follow up to an investigation launched by the Israel Police's Anti Fraud Unit into the prime minister's former bureau chief Gil Sheffer who was questioned under caution last week.
Investigators arrived at Mrs. Netanyahu's questioning armed with recently-collected testimonies from employees at the Prime Minister's Residence, but mostly with Sheffer's testimony.
Sheffer, who also came under scrutiny over allegations of sexual assault which allegedly took place 15 years ago against a foreign singer, was unexpectedly summoned for questioning under caution. Prior to this, Sheffer provided evidence in an open investigation.
This time, however the investigators told him he was suspected of fraudulently obtaining benefits and that he was, in fact, the individual responsible for the expenses which went out at Mrs. Netanyahu's request on state's tab.
Sheffer's lawyer issued a statement in which he said that his defendant wasneither guilty of secual offences or the financial misdemeanors being attributed to him.