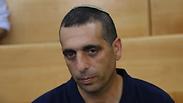 Ofek Buchris
Photo: Motti Kimchi
Chief of Staff Lt. Gen. Gadi Eisenkot made his first comments regarding the plea bargain disgraced Brig. Gen. Ofek Buchris signed last week, reiterating that Buchris's behavior has no place in the IDF and insinuating that Buchris will not even be eligible for reserve duty.

Addressing the issue, Eisenkot said, "I intend to continue to show zero tolerance for every instance of harassment or sexual abuse in the army. The offenses he admitted to committing have no place in the IDF, whether it be in regular service or reserve duty. We are obligated to ensure that all soldiers feel safe in their military service and are not exposed to instances of misconduct."

While the plea bargain signed between the Military Advocate General and Buchris has yet to be confirmed by the military court, it still stipulates that Buchris admitted to prohibited coitus with a subordinate. The agreement kept Buchris out of prison, despite his admission of guilt and responsibility for his actions.