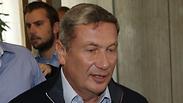 Nochi Dankner
Photo: Motti Kimchi
Nochi Dankner sentenced to 2 years in jail for market manipulation
Well-known Israeli business man, who was formerly the owner of IDB Holdings, was found guilty of leading a scam meant to boost the corporation's share price during its public issuing; in addition to his prison sentence, he received a NIS 800,000 fine and a 1-year suspended sentence.
Israeli businessman Nochi Dankner, who was convicted of market manipulation, was sentenced to two years' imprisonment on Monday morning.

Tel Aviv District Court Judge Chaled Kabub also ordered Dankner, the former IDB Holding Corp. controlling shareholder, to pay a NIS 800,000 fine and sentenced him to an additional one year of suspended sentence.

ISP Financial Services owner Itay Strum, who was found guilty of helping Dankner carry out the market manipulation, was sentenced to one year in prison.

Dankner was convicted of all of the charges against him—fraudulently influencing security rates fluctuations, driving or attempt to drive purchase of securities, and "forbidden property" transactions. Strum was convicted of similar charges.

In his sentencing, Judge Kabub noted that "The offenses were carried out by someone who, at the time, was the most prominent and well-known figure in Israel in general and in the capital market in particular. This wasn't a one-time slip, but actions done by the defendants over the course of three trading days. It's hard to accurately assess the damage caused to investors from the public, but it is not difficult to determine that the defendants violated the basic principle of an efficient and fair and capital market."

Prosecutor Hannah Korin noted that "the court stated today and quite a few times before that Dankner's main objective was to maintain his control of IDB Holdings, and that was the main motive for his actions."

"I believe that the serious conviction and the sentencing handed out to day help preserve the integrity, fairness and transparency at the capital market," she added.

Dankner refused to comment on the sentencing. At the request of his lawyer, Judge Kabub determined the beginning of Dankner's imprisonment will be postponed by 45 days.

Dankner, a favorite of Israel's business community, was often credited with helping rescue Israel's economy at the height of a Palestinian uprising. Under his leadership, IDB became Israel's largest holding company and Dankner became a celebrity.

In July, Dankner was found guilty of carrying out millions of dollars' worth of fraudulent transactions in an attempt to influence the share price of his troubled company for its February 2012 securities issue.

On February 23, 2012, IDB held a successful securities issue in which it raised NIS 321 million ($83 million). In the institutional phase the company raised NIS 286 million ($74 million) and the public offering yielded NIS 35 million ($9 million) in requests. The offering aimed to beef up IDB's cash reserves so the company could meet its financial obligations to its bondholders.

Dankner is suspected of providing the finances for a scam involving the purchase of IDB stock on the day it was issued. That day, IDB Holdings' stock registered unusually high activity on the Tel-Aviv Stock Exchange.

Suspicions are that Dankner was involved in manipulating the market on the day of issue—in other words, he is suspected of being involved in a massive acquisition of IDB Holdings stock, along with broker Adi Yehuda Sheleg and financier Itay Strum.

The stock acquisition was likely aimed at maintaining the stock's value ahead of the issue. Once the issue ended, IDB Holdings' stock began plummeting.

Dankner, who at the time was chairman of IDB's board and one of the owners of its controlling interest, allegedly financed the scam with his own resources and recruited other parties who, according to his instructions, purchased stock that was bought by Sheleg and the other accomplices in order to provide the finances to keep the scam going.

IDB, whose holdings include a major mobile phone carrier and a leading supermarket chain, took on millions of dollars in debts following a series of bad business deals. The courts wrestled control of IDB away from Dankner as a result.

"The considerable circumstantial evidence brought by the prosecution to the court and the findings based on that evidence lead to a single logical conclusion: The extraordinary criminality in the defendants' actions," Judge Kabub wrote in his verdict in July. "The defendants acted in a coordinated and shared manner to bolster the IDB Holdings share rates—an activity whose main purpose was to increase trade of the stock and prevent its rate from dropping."

During the sentencing hearings, Dankner's attorney presented the court with a letter written by former president Shimon Peres only days before he passed away, in which he notes that "Nochi would show up of his own volition to help overcome the distress and lend a hand to families who fell victims to terror attacks."

Dankner made a plea for a mitigated sentence as well, taking the stand to say: "This situation is very difficult for me. What does a man have left but his reputation? The last few years were very difficult. My reputation and honor took a hit, I became impoverished. I was left with an immense debt to the banking system and I will work to pay it. Your honor, please allow me to ask you for compassion."

Judge Kabub, however, determined that "It was not proven to me that Dankner had lost his entire fortune and became impoverished."