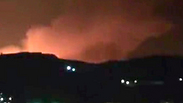 File photo of IAF attack near Damascus
Photo: AP
A Syrian military official said Wednesday that Israel attacked the Mezzeh Air Base in western Damascus, causing a series of explosions in the early hours of the morning.

"The Israeli enemy launched at 3am several surface-to-surface missiles from Lebanese territory towards western Tel Abu Al Nada. The missiles fell in the area of the Mezzeh Air Base. As a result, fires broke out at the base with no injuries," the official told SANA, the Assad regime's official news agency.

The Hezbollah-affiliated Al Mayadeen TV channel reported that Israel attacked military posts inside the air base overnight, with its planes firing missiles from Lebanese airspace. According to the report, loud explosions were heard as a result of the attack for half an hour.

Meanwhile, the English-language Al-Masdar News site, which is believed to have close ties to the Syrian regime, claimed the explosions were not caused by an Israeli attack, but rather by a fire that broke out—apparently at one of the base's arms or ammunition depots.

Lebanese news site Elnashra reported the claims that Israel attacked a command center and a runway at the air base, but it too was unable to confirm the reports.

The TV news networks Al Jazeera and Al Arabiya, affiliated with the rebels fighting to topple the regime in Syria, also reported on the explosions but did not determine the reason behind them. Al Arabiya did, however, quote officials who claimed the explosions to be the result of an Israeli attack.

The Mezzeh Air Base is considered one of the most secure regime-held areas of the Syrian capital and houses several arms and ammunition depots.

Last week, Arab media reported that Israel attacked a Syrian army outpost and a Hezbollah arms convoy not far from the highway connecting Damascus and Beirut. Both attacks were reportedly carried out by aircraft flying over Lebanese airspace.

The IDF declined to confirm or deny the reports, merely stating: "We do not respond to foreign reports."