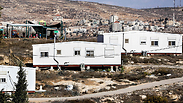 Germany urged Israel in unusually strong language on Wednesday to scrap legislation that would legalize Israeli settlement homes built on private Palestinian land in the West Bank, saying this would break international law.
Germany tends to be more reserved than other European nations in its criticism of Israel due to the legacy of the Nazi Holocaust, but it has objected in the past few years to Israeli settlement expansion on land Palestinians claim for a state.
Israel's parliament gave initial approval on Monday to a revised bill on the settlement homes, a move that has drawn international condemnation and follows the victory in the November 8 US presidential election of Donald Trump, one of whose aides has hinted at a more tolerant US stance on settlements.
A German Foreign Ministry spokesman told a government news conference: "We're extremely concerned about this development and have noted with consternation statements made by Israeli government officials during this debate.
"Such a bill violates international law," he said, adding that Israel would undermine its commitment to finding a "two-state solution"—a Palestinian state in territory Israel captured in the 1967 Six Day War—if the bill were passed.
Asked whether Germany and the European Union should punish Israel with economic or diplomatic sanctions, the spokesman said: "We don't think that sanctions would be the right path in this case to make headway in the Middle East peace process."
The last round of US-brokered Israeli-Palestinian peace talks collapsed in April 2014, with settlements among the key issues.
Israel's Knesset voted 60-49 in favor of the amended bill on Monday. It must pass three more votes at unspecified future dates before becoming law.
Israeli Prime Minister Benjamin Netanyahu took a gamble this week by voting for the measure, risking international censure and possibly legal action in order to appease far-right members of his coalition who have been emboldened by Trump's election.