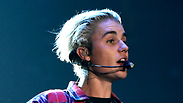 Justin Bieber
Photo: Gettyimages
Pop star Justin Bieber has announced that he will be returning to Israel for a performance in Yarkon Park in Tel Aviv on May 3, 2017 for the second time in five years.

The internationally renowned Canadian singer and songwriter already announced plans to come back to israel next May, having last taken to the stage in the country in 2001 when he was just 17 years old.

Ticket sales will open today (Thursday) at 8pm on www.leaan.co.il for loyal fan member of the pop icon while tickets will be available to the general public on Saturday night. Fans will also be able to purchase tickets via *8780 from Sunday.

Prices will range from NIS 350 for standing spots, to NIS 750 for Golden Ring tickets while VIP seats will cost NIS 1,190.

Bieber's last visit to Israel saw an intense confrontation with the paparazzi, in which the star almost hit a cameraman with his car.

During his visit it was also reported that he cancelled one meeting with Prime Minister Benjamin Netanyahu. However, Bieber's entourage claimed that no such meeting had ever been planned.