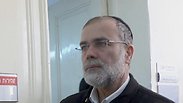 Rabbi David Harrison
Photo: Eli Mendelbaum
Religious girls' school rabbi suspected of raping 14-year-old
During remand extension hearing, Rabbi David Harrison's lawyer asks whether the complainant was a virgin at the time, noting 'It's well known that religious women who marry at such a young age find a way to excuse their loss of virginity.'
David Harrison, a former rabbi at a religious girls' high school, was arrested on Wednesday on suspicion of raping one of his students when she was 14-years old.

The student, who is 20 today, arrived at a police station in Jerusalem a few days ago and filed a complaint against the educator.

Harrison, aged 58 from Jerusalem, worked at Ulpanat Beit Shlomit between the years 2007-2010. He is suspected of committing serious sexual offenses against the teenage girl—including rape—while he was working at the school that the girl attended.

Upon receiving the complaint, police launched an investigation, gathering testimonies from Harrison's family members and officials at the school, among others. The police said the testimonies support the girl's version.

According to a police official, the alleged offenses were committed both inside and outside the school. Harrison allegedly raped the girl several times, and allegedly hit her when she tried to resist him.

Harrison was fired from the school a year after the alleged offenses were committed, but school officials said the dismissal was unrelated to the suspicions, which they were not aware of at the time.

Harrison denied the allegations, saying "When I was arrested, I was told I'm suspected of rape. I went into questioning smug and didn't ask for a lawyer because I was sure this was a complete mistake. There isn't even a hint of an offense. I didn't touch (her). I ask to be allowed to undergo a polygraph test and to be confronted with the girl ... The school was full of people; I didn't even have a private office there."

During his remand extension hearing, Harrison's lawyer, Yehuda Shoshan, caused outrage when he asked the police representative whether the complainant was a virgin at the time and whether others have had sex with her then.

The police representative refused to respond, saying the law prohibits addressing such issues concerning sexual offenses.

Later, Shoshan pressed the matter, saying "It's well known that religious women who marry at such a young age find a way to excuse their loss of virginity. (Otherwise) they'll be considered flawed in the ultra-Orthodox or Orthodox circles."

Judge David Shaul Gabai Richter, who decided to extend Harrison's remand by a week, noted that "The girl's mental state deteriorated at the time. In later years, she grew up and got married, but because she still had problems she sought mental treatment. It was then that the reason arose for the crisis that befell her."

The judge also noted that statements from the girl's family regarding her behavior six years ago, when the offenses were allegedly committed, also support her version.