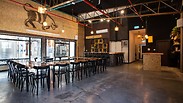 Milk and Honey Distillery visitor center
Israel's first whisky distillery, Tel Aviv's Milk and Honey Distillery, is officially open for business and serving up handcrafted, single malt whisky with a touch of style unique only to Israel.

Founded in 2012 by a group of six whisky-loving friends, Milk and Honey's flagship product is single malt whisky produced according to the standards laid down by the Scotch Whisky Association.

"We all love whisky and Israel," says Gal Kalkshtein, co-owner of the distillery. "So it was really important for us to do this the right way, according to scotch laws." Accordingly, the distillery built and imported their own copper stills, uses only imported barley and ages all their single malts for the required minimum of three years.

However, while the whisky is Scottish by law, its Israeli and Jewish influence is impossible to miss.

Due to Israel's unique geography and Mediterranean climate, the warmer weather and high humidity make for quicker maturation and help produce fine quality whisky in a shorter period of time.

Furthermore, the company also has plans to take advantage of Israel's unique elevation, which offers both the lowest point on earth and higher altitudes, which both affect barrel aging differently, allowing for distinctive tastes.

In another first, all of Milk and Honey's whisky is 100 percent certified kosher, with a stamp of approval from the rabbinate. The company does not operate on the Sabbath or holidays and only uses kosher oak barrels, some of which came from Israeli wineries, which contribute to the whisky's signature flavor.

With a wine culture spanning thousands of years and a recent microbrewery scene blossoming in both Israel and the West Bank, Milk and Honey see the potential for the domestic market in Israel and the international market, particularly the US and Europe, where single malt sales are booming.

"The demand for good single malt whisky is there and we're offering a special, high-quality product in an expanding market. The future is very promising," says CEO Eitan Attir.

While Milk and Honey's first batch of single malt whisky will only be available starting in 2019, the distillery also produces a Levantine gin made with ingredients sourced from the Levinsky market and a new make, unaged single malt whisky.

Tours of the distillery and whisky tasting at the visitor's center offers a special experience that is customizable for groups and events.