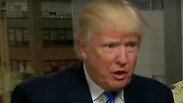 US President-elect Donald Trump wrote on Twitter earlier on Monday that the F-35 program and cost is "out of control. Billions of dollars can and will be saved on military (and other) purchases after January 20th."

The F-35—the most technologically advanced fighter jets in the world, is currently on its ways to Israel to augment its already formidable air force.

Lockheed Martin has invested large sums of money to reduce the price of the F-35 stealth fighter program, a company executive said in Israel on Monday, responding to Trump's criticism about costs.

"Since the beginning, we have invested hundreds of millions of dollars to reduce the price of the airplane by about 70 percent since its original costing, and we project it to be about 85 million dollars in the 2019 or 2020 time frame", said Jeff Babione, Lockheed Martin's F-35 programme leader.

Babione was in Israel for the arrival of the first F-35s ordered by the Israeli air force.