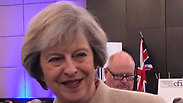 UK prime minister delivers staunchly pro-Israel speech
Speaking at a Conservative Friends of Israel lunch, Theresa May lauds Israel's 'thriving democracy,' pledges to support Israel, oppose boycotts, expunge anti-Semitism from British society: 'No British taxpayers' money will be used to make payments to terrorists or their families.'
LONDON - British Prime Minister Theresa May delivered a staunchly pro-Israel speech Monday during which she declared her government's unwavering support for Israel, proclaimed her unequivocal opposition to boycotts and reiterated her commitment to expunging anti-Semitism and Holocaust denial from British society.

Speaking at the annual Conservative Friends of Israel lunch, May announced her intention to make her country one of the first in the world to adopt an international definition of anti-Semitism and to clamp down on hate crime after an increase in the number of reported incidents targeting Jews.

Speaking to more than 800 guests, May described the 1917 Balfour Declaration—Britain's pledge to create a Jewish state in Palestine—as "one of the most important letters in history" before stating her believe that the two-state solution, for two peoples brought about by direct negotiations, "without preconditions" offered the only plausible blueprint for a peaceful resolution to the ongoing conflict with the Palestinians.

May lauded Israel as "a thriving democracy, a beacon of tolerance, an engine of enterprise and an example to the rest of the world for overcoming adversity and defying disadvantages."

Recalling her experiences during a 2014 visit to Israel, the prime minister added that "it is only when you walk through Jerusalem or Tel Aviv that you see a country where people of all religions and sexualities are free and equal in the eyes of the law."

May also acknowledged Israel's disproportionate impact on the world: "It is only when you travel across the country that you realise it is only the size of Wales—and appreciate even more the impact it has on the world."

Citing the kidnapping and murder of Naftali Frenkel, Gilad Shaer and Eyal Yifrah in 2014, she said "it is only when you witness Israel's vulnerability that you see the constant danger Israelis face, as I did during my visit."

After heaping praise on Israel's life-saving work around the world, from Nepal to Haiti, and paying homage to Israel's late former President Shimon Peres, May assured her listeners that "no British taxpayers' money will be used to make payments to terrorists or their families."

May then addressed anti-Semitism in British society and announced her much anticipated promise to adopt an international definition. "That means there will be one definition of anti-Semitism – in essence, language or behaviour that displays hatred towards Jews because they are Jews – and anyone guilty of that will be called out on it."

In a similar vein, she also pledged to continue her predecessor's (David Cameron) vision to build a National Memorial to the Holocaust next to Parliament.

May then turned her focus to British Labour Party, expressing her disgust with anti-Semitic elements within it and what she described as its hard-left allies. Furthermore, she ridiculed the UK Labour Party's deputy leader, Tom Watson who broke out singing Am Yisrael Chai ("The people of Israel live") at a recent annual Labour Friends of Israel (LFI) lunch.

"No amount of karaoke can make up for turning a blind eye to anti-Semitism, May insisted. "No matter what Labour say—or sing—they cannot ignore what has been happening in their party."

May's government already began backing up her stated commitment to countering anti-Semitism with the announcement on the same day that a British neo-Nazi group would become the first of its kind to be banned under the country's new anti-terror laws, with Interior Minister Amber Rudd branding it Monday as "racist, anti-Semitic and homophobic."