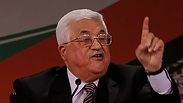 Palestinians have no faith in Abbas, 2 state solution
Two thirds of Palestinians no longer believe in two-state deal
A recent survey shows that 65 percent of Palestinians no longer believe that a two-state solution is possible; this is an increase of 9 percentage points since September; meanwhile, 54 percent have no faith whatsoever in the Abbas-led Palestinian Authority; the president takes more steps to prevent a Dahlan political comeback.
RAMALLAH- Two-thirds of Palestinians believe a two-state solution to their conflict with Israel is no longer possible, a poll said Tuesday.
The share of those who lost faith in such a deal rose from 56 percent in September to 65 percent now, probably due to an acceleration of settlement activity, said the Palestinian Center for Policy and Survey research.
Most in the international community still back the establishment of a Palestinian state alongside Israel, even though a deal appears to be increasingly complicated, in part because of the continued growth of settlements. Gaps between Israeli and Palestinian leaders remain wide, preventing any meaningful talks since 2009.
The poll was conducted last week among 1,270 Palestinians and had an error margin of three percentage points.
The survey also found that 54 percent have no faith in the newly elected leadership of Palestinian President Mahmoud Abbas' Fatah movement. The vote at a recent Fatah convention affirmed aging party stalwarts in top jobs and was seen as a move to sideline exiled Abbas rival Mohammed Dahlan.
In a related development, Abbas decided to strip four legislators seen as close to Dahlan of their parliamentary immunity, taking yet another step to prevent a Dahlan political comeback.
Hassan Ouri, a legal adviser to Abbas, told the West Bank radio station Ajyal on Monday that the Palestinian leader made the decision after the Palestinian Constitutional Court affirmed his right to do so.
In the past, only the Palestinian parliament could strip legislators of their immunity. Parliament has been defunct since 2007, when the violent split between Fatah and rival Hamas produced separate governments in the West Bank and Gaza. Abbas has ruled autonomous West Bank enclaves by decree since then.
Fatah said on its Facebook page that the four legislators would be investigated about suspicions of embezzlement of funds and weapons dealing.
Najat Abu Baker, one of the legislators being targeted, said the decision amounts to "suppression of the freedom of expression." She said she was not notified of any possible legal steps against her.
Tuesday's survey said 60 percent of Palestinians reject the court ruling giving Abbas the right to move against legislators.
Abbas has waged a relentless campaign against Dahlan since he fell out with his former senior aide several years ago. Dahlan has won the backing of several influential Arab states, including the United Arab Emirates and Egypt, which urged Abbas earlier this year to allow the exiled politician to return.
Dahlan was convicted in absentia of defamation after Abbas lifted his immunity in 2012. A Palestinian court threw out separate corruption charges after ruling that Abbas' immunity decree was not legal.