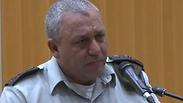 Gadi Eisenkot
Photo: Ido Erez
"No one judges a soldier to look good in someone else's eyes, but rather to protect the IDF and its values," said IDF Chief of Staff Gadi Eisenkot during a meeting with students with in Acre in reference to the trial of Sgt. Elor Azaria.

Azaria's trial recently concluded after he was charged of manslaughter for shooting and killing a seriously wounded Palestinian terrorist in March.


Eisenkot said, "We have professional requirements and norms we expect from our soldiers, and when commanders think that something happens that deviates from the norm, they take a position. If we didn't do this, we wouldn't be able to be able to give soldiers guns and expect them to use them."

He went on to say that he was supporting Azaria's commanders and that he had faith in the integrity of the military courts. According to Eisenkot, the incident did not negatively impact the motivation of soldiers serving in the IDF: "I have seen since then hundreds of soldiers and incidents and I discerned no harm caused to their motivation or to their willingness to draw their weapons and shoot whomever they need to shoot."

Commenting on the recent statements made by rabbis and IDF officials opposing female enlistment into IDF combat units, Eisenkot responded: "We have female fighter pilots endowed with great talent, female commanders who serve as ship commanders in the navy, seven security battalions containing female soldiers who stand with courage against challenges posed by men," he retorted proudly.

"We are now seeing record numbers of women serving as senior officers since the establishment of the IDF and are undertaking efforts to widen the participation of women. We are a nation that has a religious population, and we also need to cater for a religious soldier who doesn't want to serve in a co-ed unit, but all the shouting is needless because today there is an option for religious soldiers who don't want to serve in a co-ed unit and can serve in another unit," he added.

Regarding the allegations of sexual assault against Brig. Gen. Ofek Buchris, Eisenkot commented, "I say—as a commander and as a father to daughters with sensitivity to human dignity—that these incidents are handled with an iron first. In the case of Ofek Buchris, a firm and correct hand was used: He was suspended from the IDF and dismissed from his position. In general, I view exploiting a position of authority poorly, even if nobody complains."