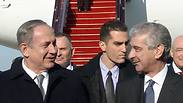 Leaders of Israel and Azerbaijan meet
Photo: Haim Zach/GPO
Israel, Azerbaijan sign batch of economic agreements
Leaders of the Jewish state and the Muslim-majority country met in Baku on Tuesday to discuss economic agreements; Israel receives the majority of its oil from Azerbaijan and has billions of dollars worth of defense deals with the mostly Shia nation.
Israeli Prime Minister Benjamin Netanyahu signed a series of agreements Tuesday with Azerbaijan President Ilham Aliyev during Netanyahu's official visit to the Muslim-majority country.

Meeting at the Zagulba Palace in the capital of Baku, Netanyahu and Aliyev focused talks on standardization, double taxation, agricultural cooperation and the establishment of a mixed commission to advance bilateral cooperation on economic matters, science, technology, health, agriculture and trade.

Welcoming the Israeli prime minister, Aliyev noted the strong defense trade between the countries – which currently stands at $4.5 billion – as well as Netanyahu's first visit to Azerbaijan during his first stint as prime minister during the 1990s. He said the current visit is a sign of both strong existing ties between Baku and Jerusalem, as well as a potential for expanding cooperation moving forward.

.

"(Today's agreements) will help to increase and diversity trade turnover, mainly because of the oil supplies from Azerbaijan to Israel… (in addition) we have very good prospects in cooperation in agriculture. Israel has very modern technologies – some of them we are already using and some of them probably will come later to Azerbaijan. Good prospects for cooperation in that area," Aliyev said.

Both leaders mentioned the history of Jews in Azerbaijan. There are currently seven synagogues in Azerbaijan, and Netanyahu is scheduled to visit a Jewish school, Chabad Or Avner. He will also meet with local Jewish leaders.

Netanyahu remarked that he could see from the air that Azerbaijan has taken "an immense leap forward" over the past 20 years, and also spoke about the growing energy relationship between the countries, including plans to link Israel's gas exports to an Azerbaijan-Turkey pipeline currently under construction. The prime minister also noted Israeli accomplishments in agriculture, education, technology and other areas.

In addition, Netanyahu noted the fruitful relationships between Azerbaijani Jews and Muslims, saying the country's example "shines against the background of intolerance and lack of acceptance and mutual respect."

Most Azerbaijanis are Muslim, and the country is officially a Muslim state.

"The mutual respect that you show here, the attitude that you've shown to Jewish people in Azerbaijan over the years, one that has fostered this very strong bond of sympathy and admiration for Azerbaijan, first of all with the 70,000 Azerbaijani Jews who live in Israel… it's something that we can show the world. Here is an example of what relations can and should be between Muslims and Jews everywhere," Netanyahu said.

This story was reprinted with permission from TPS.