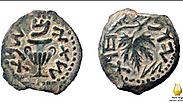 Jewish coins unearthed in Jerusalem
Photo: City of David
A 1,950-year-old coin has been found following excavations in the City of David in Jerusalem.

There is a grape leaf on one side of the coin with the words "Freedom for Zion," while on the reverse is a cup with the words "Year two of the large revolt." This dates the coin to the second year of the Jewish revolt against the Romans, putting the coin at being minted in 67 CE.

The coin was found in an area known as "Pilgrims' Road," which was the road Jewish pilgrims would have used to go up to the Temple to make ritual sacrifices during Jubilee holidays.

The Pilgrims' Road, along with other roads in Jerusalem dating back 2000 years, will be opened to the public this Hanukkah. There will be a grand opening hosted by the Ministry of Culture along with the Israel Antiquities Authority. This will serve as the opening event celebrating 50 years since the liberation of Jerusalem from Jordanian rule.
More proof of the Jewish connection to Jerusalem
Culture Minister Miri Regev (Likud) presented the coin at the beginning of cabinet meeting discussing symbols and ceremonies for the commemoration of the liberation and reunification of Jerusalem.

"In 1967, exactly 1900 years (after this coin was minted), IDF paratroopers entered the Old City of Jerusalem and liberated it – they returned Jewish sovereignty to Jerusalem," Regev said.

She added that the coin is further proof of the historic Jewish connection to Jerusalem, especially following the UNESCO decision ignoring the fact that Jews have any ties to the city.

She said, "It wont help that in 1967 we also returned to Beit El, Hebron, Shiloh, and Elon Moreh. These are all places with Jewish claims and have been identified (throughout history) as being associated with the Jews – places where are forefathers were, where Joshua and the judges reigned, where the prophets prophesized… and of course, where we returned to our united Jerusalem."