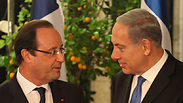 Netanyahu and Hollande
Photo: Yoav Dodkovitch
France reportedly postpones Middle East peace conference
According to Voice of Palestine radio, France delays talks, with Netanyahu consistently refusing to participate in the summit on premise 'it will not contribute to peace;' report comes one week after Netanyahu told President Hollande he would fly to Paris to meet with Abbas as an alternative option.
France will postpone a proposed Middle East peace conference in Paris to January next year, Voice of Palestine radio reported on Wednesday, with Prime Minister Benjamin Netanyahu refusing to participate and US attendance in doubt.
France has been trying to persuade Netanyahu, who has repeatedly rejected the conference proposal, to meet with Palestinian President Mahmoud Abbas in the French capital to try to revive moribund peace talks between the two sides.
Israel stated its refusal to participate in the talks on a number of occasions, rejecting an ultimatum set by France to recognize a Palestinian state if Paris' efforts to break the deadlock between the warring sides fail.
Voice of Palestine radio quoted Palestinian Ambassador to France Salman El Herfi as saying that Paris had informed the Palestinians of its delay to the peace conference until January "to make better preparations".
It said Herfi would meet French officials on Wednesday to discuss the issue and that he had said that if Israel refused to come in January, the international conference would still go ahead, but without the main protagonists.
France has repeatedly pushed for resuming the peace process this year, holding a preliminary conference in June where the United Nations, European Union, United States and major Arab countries gathered to discuss proposals without the Israelis or Palestinians present.
The plan was to hold a follow-up conference before Christmas with the Israelis and Palestinians involved to see whether the two sides could be brought back to negotiations.
The conference of foreign ministers was aimed at agreeing on a joint statement that would reaffirm the two-state solution on the basis of pre-1967 borders and according to Security Council resolutions, diplomats said.
The Palestinian mission in Paris was not immediately available for comment. The French foreign ministry declined to comment.
Last week, Netanyahu informed Hollande in a telephone call of his willingness to fly to Paris to engage in direct talks with Palestinian Authority President Mahmoud Abbas without preconditions as an alternative to the French-initiated international peace conference. Netanyahu insisted that the conference would 'not contribute to peace.'
Suspicions were already rife over French comittment to hold the sumit given the country's doubts about US President-elect Donald Trump's enthusiasm.
Despite the claims, however, Abbas advisor Husam Zomlot, who is slated to become the the next Palestinian ambassador to the United States, said that Élysée Palace and the French president already confirmed the date on which the international peace conference would take place, and that Paris was already setting the wheels in motion to bringing about its implementation.