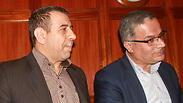 Sayed Nasrollah Ebrahim and Abdolhosein Gholi Safaee
Photo: Reuters
Kenya deports Iranian men who plotted to attack Israeli embassy
The suspects were arrested outside the Israeli embassy in Nairobi with video footage of the facility and charged with collecting information to facilitate a terrorist act; but charges will be dropped as part of agreement over their deportation.
NAIROBI - A Kenyan court on Wednesday ordered the deportation of two Iranian men who were accused of plotting an attack on the Israeli embassy in the capital, Nairobi.

The court order said an agreement had been reached between prosecutors and the Iranian embassy leading to the termination of criminal charges and deportation.

The suspects, Sayed Nasrollah Ebrahim and Abdolhosein Gholi Safaee, had been in custody since Nov. 29, when they were arrested outside the Israeli embassy with video footage of the facility. Their Kenyan driver, Moses Keyah Mmboga, was also arrested.

They had been traveling in an Iranian diplomatic car after visiting a prison where they saw two other Iranians who have been jailed for 15 years on terrorism charges, according to prosecutors.

They were charged with collecting information to facilitate a terrorist act. All three denied taking video clips of the embassy "for use in (committing...) a terrorist act".

Public prosecutor Duncan Ondimu told Reuters he had successfully applied to the court for the case to be discontinued and the two Iranians to be deported immediately. He gave no explanation for the discontinuation request.

The driver, an employee of the embassy, was released, the prosecutor said.

Iranian agents have been suspected in attacks or thwarted attacks around the globe in recent years, including in Azerbaijan, Thailand and India. Most of the plots had Israeli targets.

In June 2013, a Kenyan court convicted two Iranian nationals of plotting attacks against Western targets in Kenya and they were sentenced to life in prison. That sentence was reduced on appeal in February to 15 years in prison.

Those men, Ahmad Abolfathi Mohammad and Sayed Mansour Mousavi, led officials to a 15-kilogram (33-pound) stash of the explosive RDX. Kenyan anti-terror officials said they were members of Iran's Islamic Revolutionary Guards Corps Quds Force, an elite and secretive unit.

Reuters contributed to this report.