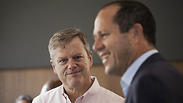 Gov. Baker and Nir Barkat
Massachusetts Gov. Charlie Baker said Wednesday that he expects this week's trade mission to Israel to "bear fruit" for the commonwealth in the near future.

Baker is leading a delegation of some 50 business and academic leaders from Massachusetts to Israel. While no deals have yet been announced, Baker said the meetings have brought together key players from Massachusetts and the vibrant Israeli high-tech scene.

"I believe that many of the connections that were made over the course of the past few days will certainly bear fruit going forward and it's going to be incumbent on us to see what we can do to make sure that happens," he told The Associated Press. "I actually think we'll have more to the say about that over the course of the next six months."

The Republican governor, a former hospital executive, said he has a special interest in teaming up Massachusetts health care providers with Israel's world-class cyber security industry.

Baker described himself as a proponent of using technology to allow patients to share data with their doctors and providers. "For digital health care to truly deliver on its potential," he said, "that data has got to be trusted and secure."

Israel and Massachusetts have deep ties. According to the New England-Israel Business Council, Israeli-founded companies in Massachusetts employ 9,000 workers, while leading Massachusetts companies, including General Electric, Dell EMC and Raytheon, operate in Israel.

Baker's trip has included meetings with government officials, local businesses, the Sheba Medical Center and Tel Aviv University.

On Wednesday, he was scheduled to visit the Israeli office of MassChallenge, a private nonprofit organization that assists high-tech startups. The state government is among the sponsors of MassChallenge.