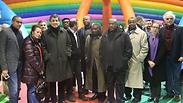 UN ambassadors in Israel
Photo: Motti Kimchi
Israel's Ambassador to the UN, Danny Danon, led a delegation of 14 UN ambassadors to Israel as part of a project initiated by the American Jewish Committee and the Israeli delegation at the United Nations.

The delegation was attended by countries such as Argentina, Bulgaria, Cameroon, Costa Rica, Mexico, Uganda, Georgia, Jamaica and Micronesia.

Danny Danon ambassador delegation (Video: Roi Idan) (צילום: רועי עידן)

"When I walked around Israel, I saw peace and a cosmopolitan atmosphere where Christians, Jews and Muslims live side by side in harmony. Before I came here, I thought that there was oppression in Israel. When we entered the walls of the Old City of Jerusalem, I was shocked to see Arabs speak Hebrew and Jews speak Arabic. I saw coexistence. It is very exciting. For me it's a game changer. I did not expect to see that, "said Sierra Leon's ambassador.

The visit also has a practical side however, as Israel is currently dealing with several problematic initiatives at the UN, among them one put forth by the Palestinians and another put forth by New Zealand.

In addition to the problematic initiatives, Israel is also launching an ambitious project for a seat on the Security Council in 2019. Elections will be held in June 2018 and Israel is up against Germany and Belgium. As such, visits by other ambassadors to Israel are vital if Israel hopes to secure votes.

During the visit, the delegation was given a tour of Israel and received an extensive review of Israel's security challenges in addition to Israeli developments and technologies. The delegation was even given a tour of the Gaza Strip, the Golan Heights and the border with Syria.

Jamaica's ambassador to the UN, Courtenay Rattray, was impressed by a visit to Nahal Oz where he saw fortified kindergarten. "Now I have a better understanding of the constant tension this community is in," he said.

Ambassador Danon said, "The purpose of this visit is to use the UN platform in order to strengthen bilateral relations between countries and to influence UN policy towards Israel. A large number of countries are influenced by anti-Israel lies circulating around different forums in the UN, but with a seminar in Israel, ambassadors see with their own eyes the reality of this country."