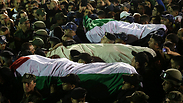 Palestinian terrorists
Photo: EPA
Israel returns the bodies of seven terrorists
The bodies of the terrorists were returned after the families of the terrorists filed a petition with the High Court seeking their return; Defense Minister Lieberman fiercely opposed to the return saying it only encourages more terror attacks and calls for revenge.
Israel began the process of returning the bodies of seven terrorists from the West Bank who were killed while conducting terror attacks in which Israelis were murdered.

The decision to return the bodies was taken after the families of ten terrorists petitioned the High Court to return them. Following news of the petition, the government informed the High Court it would return the bodies of seven terrorists, following discussions in the security cabinet.

The state agreed to the return under the condition that the funerals do not become a scene of protest and incitement to terror.

Regarding the matter of the additional three bodies, the government said the issue required more deliberation as the three were affiliated with Hamas. The names of the three were not released, but two were identified as Mohammad Faqih, who carried out the shooting attack on Route 60 which killed Rabbi Miki Mark , and Masbah Abu Sabih, who carried out the shooting attack at Ammunition Hill in Jerusalem, which killed Levana Malihi and police officer Yossi Karmia.

Another discussion is expected to be held concerning the return of the body of Mohammed Taraireh, who murdered Hallel Yaffa Ariel in her bed in Kiryat Arba.

The return of the bodies on Friday was conducted in spite of fierce opposition from Minister of Defense Avigdor Lieberman, who claimed that the funerals would encourage further terrorist attacks and calls for revenge.