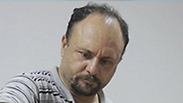 Mahammad al-Zawahri, the assassinated UAV expert
Tunisia investigating Mossad-suspected assassination
Tunisia is reportedly investigating the death of Mohammad al-Zawahri, a flight engineer who was shot and killed Thursday at close range; Mossad is suspected on being being behind assassination, with Hamas spokesperson saying, 'The Mossad is not interested in having an Arab mind with knowledge and expertise in this field'; testimonies say al-Zawahri had used tunnels to enter Gaza, where he trained Hamas operatives how to use UAVs.
Tunisia continued with its investigation Saturday of the assassination of Mohammad al-Zawahri, a flight engineer who specialized in unmanned aerial vehicles (UAVs). According to reports, al-Zawahri had been assisting Hamas terrorism efforts, and that the Mossad—Israel's national intelligence agency—was behind the incident.
Tunisia's Internal Affairs Ministry issued a statement on the incident, saying that the country's security forces have nabbed four vehicles reported to have been used for the assassination, two guns, two silencers, cellular phones and other objects related to the case. The ministry also confirmed that security forces have managed to draw a composite of one of the suspects.
Al-Zawahri interviewed about UAVs in Tunisia
The Internal Affairs Ministry added that it has arrested five suspects for involvement in the case, who reside in several Tunisian cities, including the capital of Tunis and the city of Djerba, which has a large Jewish community. A local radio station also reported that several crew members of a Russian ship who were arrested in relation to the matter have already been released.
Tunisian press began pointing the finger at Israel on Friday, as a Tunisian journalist Borhan Bessais posted on his Facebook page that it was the Mossad that is responsible for al-Zawahri's assassination. Bessais continued by saying that al-Zawahri had left Tunisia back in 1991, when he immigrated to Syria. It was there that he contacted Hamas and began helping it militant branch using the knowledge he had accumulated as an engineer. Bessais claimed that al-Zawahri had recently been under Mossad surveillance, until his assassination.
Persian Gulf news website Alkhaleej Online reported from "knowledgeable sources" that al-Zawahri had received several threats on his life, due to his activity with UAVs and his supposed support of "the Palestinian matter." The sources added that foreign security bodies were involved in his assassination.
Tunisian radio station Mosaique reported that one day before the assassination, al-Zawahri had met with a woman claiming to be a journalist from Hungary, in addition to two men, on the latest advances in aerial engineering. The woman left Tunisia on Wednesday, and is suspected to be linked to the assassination.
Al-Zawahri was buried in a simple ceremony in the two days following his assassination.
Al-Zawahri's funeral
In a perhaps related event, Tunisian Head of National Security Abd Errahmane Belhaj resigned from his post five hours after al-Zawahri's assassination, without explanation. The Ministry of Internal Affairs stated that his resignation was due to "personal reasons."
Hamas Spokesperson Mushir al-Masri said on Friday in an interview with Tunisia Radio that "The Only entity that stands to gain from this assassination is the Zionist enemy." He added that "The Mossad has a history of political assassinations, and it has harmed all Muslims and free people around the world developing technological and military abilities, particularly those involving UAVs. The Mossad is not interested in having an Arab mind with knowledge and expertise in this field."
Hamas confirmed Al-Zawahri's membership in the organization, saying, "Al-Zawahri joined the Izz ad-Din al-Qassam Brigades a decade ago. He acted against Israel in defense of Palestine and was one of the commanders who supervised our UAV program."
Hamas went on to threaten Israel, saying, "They need to understand that this blood was not spilled in vain."
Karim Abed a-Salam, who was reportedly close to al-Zawahri, gave an interview to a Tunisian television news channel on Friday. During the interview, he said that al-Zawahri had ties to Hamas and was involved in its military plans. "He was the link between Hamas, the Syrian regime and the Iranian regime prior to the Syrian Revolution, but in 2011 he decided to leave Syria and be neutral, so as not to be forced to choose between the Syrian regime and the Syrian rebels."
A-Salam further claimed that al-Zawahri has entered Gaza through underground tunnels three times, "to help the Palestinian resistance against the Zionist enemy."