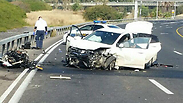 Crash related deaths reach all time high in Israel
Photo: Avi Moalem
Four people were killed in car accidents in Israel since Friday, bringing the total number of people killed on Israeli roads this year to 357, the highest it has been in five years.

By contrast, 292 people were killed in 2012, 309 in 2013, 319 in 2014, and 356 people in 2015.

December 2016 alone saw more that 20 people die on the roads in Israel. Thursday night saw a 28-year-old woman and her nine-year-old son die on Highway 6 outside Kiryat Gat. A woman walking on the side of the road was killed by a car on Friday morning in Petah Tikva. Additionally, a man died when this motorcycle flipped outside of Mitzpe Ramon on Saturday.

This number doesn't account for the number of those injured in car accidents. On Saturday alone, three people were injured. A 60-year-old woman walking along the street was injured when a motorcyclist hit her. The woman was severely injured while the driver was moderately injured.

Meanwhile, a police volunteer was seriously injured when the motorcycle he was riding was hit by a driver, who then fled the scene. The driver was later found in his home in Kafr Qassem.