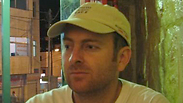 Alexander Lapshin, an Israeli blogger with Russian citizenship, was arrested last week by authorities in Belarus following a request made by Azerbaijan for reasons relating to "homeland security."

Lapshin, a 40-year-old Haifa resident, recently visited the disputed Nagorno-Karabakh region and later openly supported its independence. Soon after, Azerbaijan issued a warrant for his arrest on suspicion of espionage.

Upon reaching Belarus, Lapshin was arrested as per the request of Azerbaijan, which is seeking to have him extradited. Israeli officials worry that if Lapshin is transferred to Azerbaijan, he will be tried for espionage and will face a heavy prison sentence.

Israeli officials were quick to contact Belarus and request that they not extradite Lapshin before they hear from Israel. Simultaneously, the Foreign Ministry has turned to the Israeli embassy in Baku to contact Azerbaijani authorities to prevent the extradition and avoid harming Lapshin.

The diplomatic incident comes after a highly publicized visit by Prime Minister Benjamin Netanyahu where security deals worth $5 billion were signed. Despite the warm reception offered to Netanyahu, Jerusalem fears that Lapshin's arrest could endanger relations with Azerbaijan, but at the same time, is unable to sanction harming a citizen for expressing his opinion on a blog.